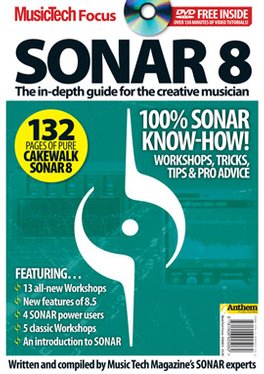 Everything you ever wanted to know about SONAR is now encased in a 132-page full-color guidebook! From cover to cover, this exclusive magazine is the most comprehensive guide to SONAR in print (besides SONAR 8! Power) – a must have whether you're a SONAR user, or thinking of becoming one!
Packed with 100% SONAR content, this magazine features exclusive interviews with A-list SONAR users – from Shawn Clement to the world famous Sun Studio in Memphis, Tennessee – highlighting how they using SONAR 8.5 everyday for work. From tracking to mastering, this magazine is teeming with tips and tricks on SONAR's expansive set of features including 17 SONAR workshops on Beatscape, Step Sequencer 2.0, Session Drummer 3, Z3TA+, Media Browser, Using ACT with your favorite controllers, Film Scoring, Recording Vocals and more! There's also a FREE DVD packed full of video tutorials, loops, demos and tutorials. 
Don't miss out on this exclusive help guide!