[Many photos; this conference is way too vivd to tell it all in words.]
Cakewalk's SONAR Platinum, along with many other Gibson Brands' products are making a splash in Utrecht Netherlands this weekend at DanceFair 2015.  EDM has had strong roots in Utrecht,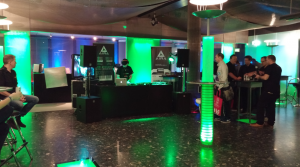 and in the Netherlands in general for quite some time, so it's absolutely the perfect location to capture the spirit of this genre. Electronic music makers from all over the world have converged here over the weekend to celebrate and discuss the state of the industry, technology, creativity and performance.
Some of the world's most influential electronic professionals including Martin Garrix, Alvaro, GLOWINTHEDARK, Andrew Bayer, Roog, and even Cakewalk's own SONAR Platinum endorsee iLan Bluestone can be seen walking the halls, testing out the latest and greatest new gear, and even holding workshops for tomorrow's EDM stars. One of the greatest aspects of Dancefair is that the pros are very accessible to the many aspiring (and very young) EDM enthusiasts who can be seen mingling in breakout rooms around the conference.
The conference is held at Jaarbeurs Utrecht which is a very impressive complex to say the least, and also lends itself very well to the modern theme and overall vibe of this convention. From complex rhythms to chilled out backbeats, walking through the different pockets in this facility has everything modern EDM has to offer. The KRK listening room was exceptionally popular Continue reading "SONAR PLATINUM: Hello from DanceFair Utrecht Netherlands 2015"