[Many photos; this conference is way too vivd to tell it all in words.]
Cakewalk's SONAR Platinum, along with many other Gibson Brands' products are making a splash in Utrecht Netherlands this weekend at DanceFair 2015.  EDM has had strong roots in Utrecht,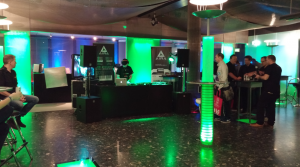 and in the Netherlands in general for quite some time, so it's absolutely the perfect location to capture the spirit of this genre. Electronic music makers from all over the world have converged here over the weekend to celebrate and discuss the state of the industry, technology, creativity and performance.
Some of the world's most influential electronic professionals including Martin Garrix, Alvaro, GLOWINTHEDARK, Andrew Bayer, Roog, and even Cakewalk's own SONAR Platinum endorsee iLan Bluestone can be seen walking the halls, testing out the latest and greatest new gear, and even holding workshops for tomorrow's EDM stars. One of the greatest aspects of Dancefair is that the pros are very accessible to the many aspiring (and very young) EDM enthusiasts who can be seen mingling in breakout rooms around the conference.
The conference is held at Jaarbeurs Utrecht which is a very impressive complex to say the least, and also lends itself very well to the modern theme and overall vibe of this convention. From complex rhythms to chilled out backbeats, walking through the different pockets in this facility has everything modern EDM has to offer. The KRK listening room was exceptionally popular where conference-goers got a chance to hear cutting edge music through the genre's most respected monitors. Nils Karsten also held a great seminar breaking down the components that go into making a great speaker like the KRK Rocket line.
The great folks at MWorks Distribution along with myself showed off the new SONAR Platinum to Electronic music makers from all over the world. The fun part about the demonstrations this weekend was the incorporation of the Arturia line of products which I highly recommend looking into.  It was addicting using Arturia's VSTs combined with their hardware to create new beats in Platinum.  Combining the vintage and modern sounds of Aturia with
SONAR's massive arsenal of VST synths and FX opened a lot of eyes to how quickly original sounding EDM tracks can be created in SONAR Platinum.
To top off a great day-1 at the conference, SONAR user iLan Bluestone performed his latest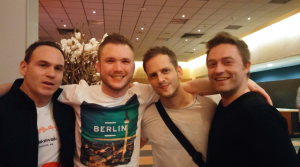 Trance hits to a sold out crowd on the Mainstage at Armin van Buuren's "A State of Trance" Festival which was part of DanceFair 2015. This one night festival was an amazing array of over 30 of the world's most prominent electronic musicians performing to over 25,000 people encompassing 4 stages – yes – that massive. I was fortunate enough to catch up with iLan backstage for a bit to talk about his transition into Platinum. "SONAR to me is crucial because it's what helps me to 'not' sound like everyone else," iLan told me over a post-show Amaretto. iLan also mentioned that VocalSync is great for EDM tracks because it quickly helps aid in the thickening of multiple vocal tracks where a tight sound in this genre is necessary; all while the super-rich REMatrix Solo adds depth and clear dimension.
Day-2 will definitely start a bit later for some who were out until 7am at the festival, but you can be sure that another wave of Dancefair participants will be ready to go when the bell rings. There is no shortage of friendly EDM fans and music creators here in the Netherlands, and to anyone interested in hearing the most cutting edge music in the world in its current form, I highly recommend DanceFair Utrecht 2016. ~Thanks for reading, JL
Click here for more information on creating your own electronic music.