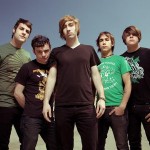 Alex Roy barely has time to talk.
He's busy packing.  Again.  He just wound up a series of shows yet tomorrow Alex and his band, Sparks The Rescue, heads back out on the road.  This time it's the Lab Apparel-sponsored Bring Me Home Tour, a 19-date run that will run through the end of April.  Not long after that ends, they join the Vans Warped Tour for 21 dates that take them all over the country.
It's been like this for lead singer/guitarist Alex and his Sparks The Rescue bandmates since signing with Fearless Records last year, who released an updated version of their first LP, "Eyes to the Sun."
A tour with The Morning Of, Ian Walsh, and We Are The In-Crowd soon opened the door to a short European tour with the popular All-American Rejects, giving Sparks their first true taste of the 'big time.'
"It's been a whirlwind, but it's been amazing."
Oh, and let's not overlook their video for "We Love Like Vampires," which has been getting a lot of buzz on MTV.COM, or the fact they landed tracks on MTV shows The Hills and Real World: Cancun, 2009.They also did a seven-week cross-country tour with Hit The Lights, and even won MTV/Garnier Fructis's "I Want My Music On MTV! Competition" for a chance to play at mtvU's 2009 Woodie Awards.
It's safe to say, 'whirlwind' is an understatement.
Continue reading "Sparks the Rescue: From Maine to Mainstream"