Congratulations to SONAR user Norman Matthew and his band Murder FM for their first major-affiliated record released just last week.  Entitled Happily Neverafter, the 12 song full-length album was tracked mostly in SONAR over a period of time.  As many commercial records these days, this recording project started out as a demo and then as fate would have it, ended up in the hands of a label and a real-deal mixer (Famous/Sony Red and Beau Hill).
Murder FM have been on the fence about signing with different labels over the years since they debuted a video on http://www.revolvermag.com that shot out of nowhere.   In 2013, the track/video "We the Evil" took over the top spots surpassing major label artists next to Rob Zombie, and projected the band into the public eye as well as the industry eye.  The video alone had 150k views within a short time of it being released and is now up to 320k globally.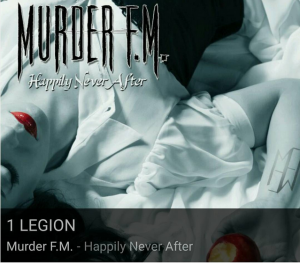 Finally, and recently, the band found the right label partner with Famous Records Global (Sony/Red) and the final touches were made which includes a death-defying remix of the focus-single-track by Tommy Lee of Motley Crue.  Interestingly enough, many of the tracks mixed by Beau Hill on the record were created by Norman in his SONAR studio stemming from demos he created over the years.
"SONAR allowed me to capture a lot of great moments where there was really no need to go back to the drawing board."
Already sharing stages with bands such as Black Veil Brides, Orgy, Halestorm, Powerman 5000, Young Guns, Korn, The Used, The Birthday Massacre, Sick Puppies, Trapt, Rob Zombie, Deftones, Avatar, Five Finger Death Punch, and The Pretty Reckless to name just a few, they embark on touring in support of the new record for the rest of 2015.  As MFM supports their first official global release distributed by Sony/Red, the future is wide open and arena rock will live and breathe again in the fiery form of Murder FM!
For more information on Murder FM visit http://www.murderfmmusic.com
The all new SONAR comes in 3 different versions and can truly help you to create your own artist story.  Click here to try SONAR for free
Last week's interview on 97.1 The Eagle/Dallas
We the Evil Official Video