With the advent of digital audio, some feel a certain quality associated with the analog signal path has been lost. While that may have been true at one point, analog emulations have come a long way since first introduced. Let's find out how to add that "analog sound" using some of SONAR's plugins. (Note: Many of the following examples use features are exclusive to SONAR Platinum, so if you don't already have this version, you can try a free demo by clicking here.)
#5 – ProChannel Tape Emulation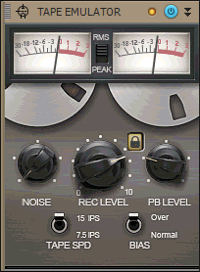 Tape does some pretty magical things to audio, so SONAR Platinum includes tape emulation as a ProChannel module. Best  of all,  you can use it as much as you like without having to clean the heads!
Here's how tape emulation enhances the sound:
Emulates the "head bump" of analog tape to enrich the low end, adding subtle warmth
Smooths response by slightly rolling off lowest lows and highest highs
Increases sustain by smoothing peaks
Saturates the signal in a non-linear, analog manner
Optionally introduces high-frequency hiss
For a basic application, insert the Tape Emulator in the Master Bus ProChannel. You'll immediately hear a more cohesive mix. Increasing the REC LEVEL increases the overall saturation. The REC LEVEL knob, TAPE SPD switch, and BIAS switch all interact in unique ways, so try out different combinations to hear how they affect each other.
After hearing how the Tape Emulator affects your sound, try applying it to individual tracks (your drums will sound particularly fabulous). This will be a more subtle effect, adding a sense of depth to the overall mix.
Continue reading "5 Tools To Get "That Analog Sound" From SONAR"