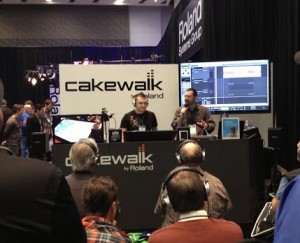 Every January, thousands of gear companies, PR professionals, artists, and gear-junkies converge in Anaheim, CA for what is known as one of the world's biggest music festivals; The NAMM Show.  If you have never been, it's a playground for the musician where one can find everything from the latest boutique guitar amp to the newest beta software development.
As a software company that participates at the NAMM show year after year, one pattern we have seen which holds true for all companies is that you just know when you have a great product on your hands.  This year was no exception when we unveiled the new CA-2A leveling amplifier to the press, artists and gear-heads; the feedback was beyond our expectations.
The CA-2A had 3 primary points of contact with the public at NAMM:
1. On the show-floor where SONAR X2a was being demonstrated on three machines.
2. The main-stage demonstration area where Cakewalk's Seth Perlstein (along with other artists) showed off all the features of our software.
3. The Cakewalk V.I.P suite at the Hilton where we set up a studio atmosphere to show off our newest software combines with Roland's integrated hardware.
While the show-floor and main-stage demo area served as a platform to show our customers and retail buyers our new products, the Hilton suite was where we were able to get the CA-2A in the hands of some well-known artists, along with seasoned experienced gear-savvy journalists.  The beauty of these meetings was that we were not looking for pats on the back or hot air; this was a chance for us to get straight feedback from professional users other than our beta developers for the first time.  After 4 days filled with over 50 meetings, here are a few quotes directly from the demonstrations:
TC Spitfire (producer/songwriter/engineer – Paul Oakenfold, Cher)
"With the style of music I produce on a daily basis, I'm excited to put the CA-2A to work next week.  I absolutely have to have side-chaining capabilities with dance music, so to have that feature in this type of leveling amplifier is huge for me."
Tim Wynn (producer/composer/musician – co-owner of SonicFuel studios specializing in Film, Television and interactive media music)
"On any given week I could be writing and producing music for feature films, TV shows or mixing music for some of the biggest titles in video games.  I think the CA-2A is going to be a big part of my plugin arsenal.  From what I just heard in direct comparison to the other leveling amplifiers, I can't see why anyone would not pick this up.  The fact that it's lightweight on DSP and you don't need an external card to run many                                              instances will be a big plus for me; for anyone for that matter."
Shawn Clement (producer/composer/musician – Clemistry Music at Paramount Studios, Hollywood, CA)
"Anyone looking for a fat classic vintage compression sound will love this thing.  It's great that you [Cakewalk] guys modeled the R37 screw as well which works miracles on vocals." [The R37 screw helps control the high-frequency compression.]
These were just a few out of the many folks that stopped in to hear the CA-2A up against other leveling amplifiers.  In the next week I will be uploading another blog here exemplifying the sonic capabilities of the CA-2A as I put it to the grind here in my studio in NYC.
A quick look at the CA-2A Feature Highlights:
VST, Audio Units & ProChannel compatible (Mac/PC)
Meticulously modeled.
With only a few simple controls, it's easy to use and provides instant gratification.
Warm, smooth and natural sounding compression characteristics.
Frequency-dependent gain reduction.
Compressor and Limiter modes.
Up to 40 dB of smooth gain reduction.
Sidechain input for ducking, de-essing and pumping.
Gain reduction CV output to modulate other effects.
Zero latency for real-time tracking and mixing.
Fully modeled "R37" HF Pre-emphasis control.
See all CA-2A T-Type Leveling Amplifier features
Availability and pricing:
The CA-2A T-Type Leveling Amplifier is now available for $99/£79/€99 and includes VST, AU, and ProChannel Module formats.  Customers who previously purchased the PC2A (ProChannel Module) format can upgrade for $19.99/£15.99/€19.99 on the Cakewalk Store.