With South by Southwest over and the Northeast starting to thaw out, we checked in with a few of our professional artists to see what they have been up to.
Norman Matthew and Murder FM Announce New Tour and Wrestlemania
Just when we thought it could not get any more murderous, Norman Matthew of Murder FM is jumping into the wrestling ring???  Fresh off of a national tour with Drowning Pool, in support of their latest record Happily Neverafter which was produced in SONAR X3 & Platinum and doing very well, Murder FM have announced April tour dates. The shows kick off with the wrestling debut of vocalist Norman "The Gnar" Matthew, during "Wrestlemania" Weekend at the 1010 Collins Ctr in Arlington, TX! (Yes, you heard us right – Wrestlemania.)
April 1 – 3, the Trifecta of wrestling brands, Knokx Pro/ Territory League, Samoan Dynasty Wrestler "TMD" Teams up with Murder FM in Arlington, TX. Murder FM Vocalist Norman "The Gnar" Matthew takes the corner of "TMD" during WRESTLEMANIA weekend, featuring WWE Hall Of Famer "Rikishi".
Recently we also found out Norman is using SONAR Platinum live on stage.  Next month we will be focusing an article around that setup and how he uses SONAR in a live application… [this is if he makes it out of Wrestlemania this weekend ;)]
Other New Tour Dates:
04/14 – Dubuque, IA – The Venue
04/15 – Crest Hill, IL – Bada Brew
04/16 – Springfield, IL – Capitol City
04/17 – Pekin, IL – Twisted Spoke
04/20 – Kent, OH – The Outpost
04/21 – Toledo, OH – Realm
04/22 – Chesterfield, MI – Diesel
04/23 – Battle Creek, MI – The Music Factory
04/24 – Harrison, OH – The Blue Note
For more information, please visit: www.murderfmmusic.com.
Yogi Lonich on the Loose in Croatia
What do Zagreb Croatia and SONAR have in common?  The answer to that question is one talented musician/producer by the name of Yogi Lonich.  LA based Lonich who has worked with iconic artists such as Shakira, Buckcherry, Wallflowers, Fuel and most recently Chris Cornell is on hiatus from LA and producing a few great rock artists in Croatia in SONAR Platinum.
"UP," is an alternative rock band formed in Zagreb Croatia by singer/guitarist Leo Angelcovich.  In 2015 Leo started recording demos by himself and caught the ear of Yogi who has now joined him in person as a producer and collaborator.  The efforts so far are focused on turning out a few singles, following an album in 2017 before world domination.  The bands influences: AC/DC, Led Zeppelin, Pink Floyd, Free, Nirvana, AiC and Rage Against the Machine to name a few.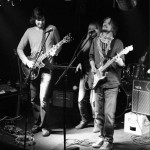 Yogi has also been working with Blues(ish) guitarist/songwriter Dario Brnad who is also located in Zagreb Croatia. "I'm so used to my SONAR rig in LA that it took a bit to get used to my mobile setup here in Croatia.  Platinum has been an inspiring creative tool here on these projects and I have been using a lot of Rapture and Dimension Pro as well."
Chillwalker Announces New Recording Project Inspired by Mobile Recording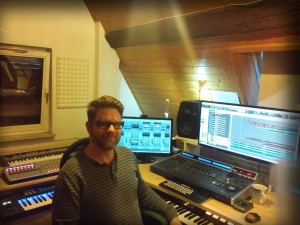 German artist Chillwalker has just announced the plans for what we think is a very unique project: "Holy Grounds."  Starting in August he will be touring to 12 sacred locations to which will eventually end up in a full-length 12-track release all inspired and taking direction from each location's character.  "With SONAR being so stable now, and the ability to create music virtually anywhere on devices that have longer battery life with core i7 processing, doing a project like this makes perfect sense to me.  I will also be preforming live during the trip to help offset some of the costs."
After releasing close to 70 tracks and remixes, Chillwalker took a bit of a break in 2015 to rebuild his musical spirit.  He also took the time to physically build a new SONAR studio setup where he is currently working.  "Platinum has really brought my music to another level since the last record on an older version of SONAR.  I actually upgraded my Melodyne
the DNA version just because of the fact that it works so incredibly well with SONAR.  The Browser is a feature I cannot live without either—it's always open and I am constantly auditioning and manipulating sounds.  The ProChannel is another item I use all the time.  I do a lot with sidechaining for compression with it.  Finally, huge time-savers for me are both project and track templates."
We will be checking in on Chillwalker's interesting upcoming trip/project and will be doing a full length story on the project as he gets going.  He will be updating his information in real-time here https://www.facebook.com/Chillwalker/ .  In the meantime you can Chill[walker] here:
Javier Colon Anounces New Tour to Support April 15th Concord Music Group Release
NBC The Voice winner Javier Colon has been setting up for his new record to be released next week on Concord Music Group, and a few new songs are being leaked including "Giant" which was uploaded to Youtube not too long ago.  Javier wrote much of the record in SONAR Platinum in his home project studio before recording in different locations.  Along with the new full length 15 track record (yes… that's right… 15), he has just announced an national tour for April/May/June that spans cross-country starting in Atlanta on 4/23.  The tour so far from east to west and tourdates/tickets can be viewed here on his site http://javiercolon.com/tour-dates/ .
In a recent interview, Jav told us, "A lot of the songs on this new record started right in my home studio on SONAR Platinum. The thing I like about SONAR for writing is that it's really quick for getting ideas down.  It's like a creative partner.  Of course it's great for mixing and creating masters too, but for me since I was fortunate enough on this record to be working with top-notch mixing engineers, the single most important thing was getting the songs right.  The features in Platinum are great for songwriting.  Even just the loops in Addictive Drums 2 are a great starting place to generate ideas—there's just no shortage of inspiration in the program."
The album is for presale on Amazon and iTunes.
Gravity Tour Week 1:
04/23/16            Atlanta, GA                        Vinyl
04/25/16            Vienna, VA                         Jammin Java
04/26/16            Philadelphia, PA                World Cafe Live
04/28/16            Ridgefield, CT                    Ridgefield Playhouse
04/29/16            New York, NY                    Le Poisson Rouge
04/30/16            Carmel, IN                         The Palladium
SONAR Artist, Professional and Platinum are used by countless artists worldwide who are are taking their music into their own hands. If you are a musician who owns a PC, why not turn it into a recording studio?  Please visit the SONAR pages for more information on getting started.  No matter what stage you are in your career, there is a version of SONAR right for you.