Hey everyone!  Cakewalk & Jamstik+ have teamed up again, this time to bring you the Jamstik+ & Sonar Artist Bundle! In addition, our good friend Craig Anderton released custom presets for Rapture Session as a bonus download included in the bundle. Jamstik+ sound-pack for Rapture Session includes 11 instrument types & all of the presets curated from Rapture Pro multi-sample synth that can be easily mapped to your MIDI controller.  In total we have 30 presets that celebrate the 30th anniversary of Cakewalk Sonar.  Watch the video above to watch me showcase some of the included sounds!
Rapture Session's Interface
First, let's talk about the user interface for our included soundpack.  Sonar's integration of Rapture is very straightforward and user-friendly.  For many guitarists, synth apps can be intimidating.  I tend to steer toward apps that have a simplistic design so I can play more, and tweak settings less.
How Does It Sound?
This sound-pack is a Swiss-army knife of sound, including a nice section dedicated to bass guitars.  Most patches have a nice warm tone and some of them even a retro-like quality.  Although these programs have unique attributes that can be modified with the Instrument Editor, they come pre-canned with solid defaults.  If you're looking to get a bright and crispy synth, I recommend adding an exciter to help out with the super-duper high end.
About The Demo Song
The main chord progression goes from C# minor to A major using the Nashville Guitar with a few tweaked settings in the Instrument Editor.  It's always exciting to try out new guitar tones with the jamstik.  Traditionally it's usually hit or miss for MIDI samples of guitars.  These particular offerings fit well with the kind of track I was making.  The Nashville Guitar is essentially based off the "LesPaul" sound included with an octaver on top of it.  This brightens up the melody and helps it stand out.  In this example, I increased the TremSync Dial to get a nice tremolo effect.
I'm a huge chip-tune fan (I actually compose quite a lot of 8-bit music myself)  so naturally, I gravitated towards the PolySynth lead.  This is used on the melodies & solos that are going on in the video.  
Lastly, during the section where I am playing a Kick and Snare there is an arpeggiated pattern being played in the background.  This patch is a fun one called PatternKittens.   This arpeggiated synth lends itself nicely to contribute ambient tones to the tune.  It reminds me of something The Who or a rock band would have incorporated into their music!
List of the 30 bonus sounds:
3 Guitars

2 PolySynths

2 Pads

Brass Synth

Clav Synth

DrumsAcous

Electric Piano

Harpsi-Synth

Organ

Pattern Kittens

Pattern Soft Steps

Piano

Sax

Sitar

Strings

Synth Tines
Included Basses:
Acoustic Bass

4 Electric Basses

5 Synth Basses
Use Unique Jamstik+ Features
For the soloing on this track, I used a mixture of traditional picking and a feature called "Tap Mode".  This functionality has been used with other controllers so may not be a foreign concept to you.  Essentially, the jamstik+ when in tap mode, will reward a full velocity note upon fretting the guitar neck without the need for picking.  It's a fun way to do legato passages and tracks really clean on the piano roll.  For an article explaining more about jamstik+ features click here!
Bluetooth MIDI on Windows 10
The newest versions of Sonar and Windows 10 take advantage of Bluetooth 4.0 Low Energy to connect the jamstik+ wirelessly as a MIDI input device.  Make sure to check specs on your PC to ensure compatibility.  If not, we recommend this BLE dongle by Asus.  
For more info check out a previous guest blog-post I did talking about Bluetooth MIDI.  For the full article read more here.
Sonar Artist is a fantastic package that comes with all of the essentials & more.  To celebrate our collaboration, we are offering a bundle for the jamstik & Sonar Artist together for a special price!  Both of these products are great independently, but together they make a powerful team.  Don't forget.. this plug-in I am demoing comes FREE with the activation codes included in the bundle!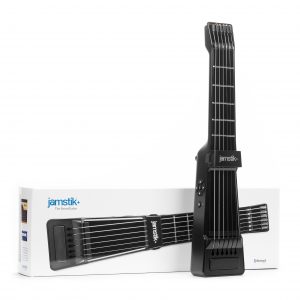 Thanks to hard-working engineers we have Bluetooth MIDI possible in Sonar. This opens new doors for producers and other music creators to have a wireless experience with a cool controller on their PC.  We hope to see what you create!
Remember to tag #jamstik #sonar #cakewalk on your posts!! 
Learn more about the jamstik+ / Sonar Artist Bundle at www.jamstik.com