[youtube https://www.youtube.com/watch?v=99mneukqSkI&w=750&h=420]
A new way to enter MIDI
Greetings! My name is Mike Green, Music Product Specialist at Zivix, we make the jamstik+ portable SmartGuitar & PUC+ wireless MIDI link. I'm primarily a guitar player, and in my 15+ years of musical composition, MIDI has enabled me to write and record quickly. In full disclosure; I'm a lousy keyboardist. The jamstik+ and Bluetooth MIDI's availability for Windows 10 has revolutionized what used to be a point-and-click endeavor. Now I can use virtual instruments in Cakewalk's SONAR software controlled by the jamstik+ digital guitar so I can enter in data wirelessly via Bluetooth MIDI – using the guitar skills that come most naturally to me.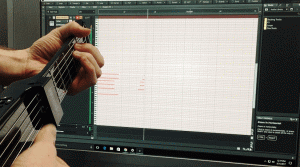 Jamstik+ & SONAR Platinum is a killer combo for the studio.
A hit with pro and amateur musicians, the jamstik feels like a traditional guitar neck and works with your favorite MIDI apps and DAWs.  Music notation, composition or accompaniment is easy with the Jamstik+ and Sonar Platinum Edition.
The jamstik+ is a great MIDI controller, and my favorite bundled virtual instruments in SONAR are:
Strum Session 2

: This was an added bonus I did not expect, a built-in guitar modeller! Overall, I'm very impressed with the simple UI. There's a plethora of modifiers to make your own presets with, and even a chord-finder as an added benefit. Make sure to take a listen to the short track I made featuring the "acoustic" preset (video is at the top of the blog post).
Cakewalk Sound Center

: This Soft-Synth includes a nice variety of tones.  There is a limit to what parameters you can tweak for each sound, but most of these sounds are good right off the bat.  
Make Sure Your PC is Bluetooth 4.0 Compatible.
With recent updates in the Windows 10 OS, SONAR's DAW takes advantage of using Bluetooth 4.0 Low Energy (BLE) to connect Bluetooth enabled MIDI devices. Now, almost all operating systems have this capability, so the performance is only going to get better from here, and more controllers will start "Roli" 'ing in (haha). Check the specs on your PC (look for Bluetooth in Device Manager) to see if your PC is Bluetooth 4.0 compatible. If not, you can always try various BLE Dongles like this one by Asus.
Connecting is easy
Pair to Windows 10

Open SONAR

Enable your MIDI Device In/Out Check-boxes in Preferences

Select your Soft-Synth

Play!
Use the PUC+ To Connect Other MIDI Controllers via Bluetooth
I should also mention if you're looking to connect an existing MIDI keyboard, check out the PUC+ Wireless MIDI interface. It's an easy way to cut the cables from your rig (for your electronic drum-kits, keytar, or even syncing/switching effects on our DAW). After seeing more and more innovative controllers at Winter NAMM 2017, one thing is clear — BLE MIDI isn't going away anytime soon.
Keep An Eye Out For More Bluetooth Instruments
With the rise of mobile music apps, we are seeing the need for cool controllers that fit the lifestyle of musicians. In Jordan Rudess's tech talk at NAMM, he put a strong emphasis on tablets being expressive instruments—with one drawback: no tactile feedback on the glass.  This is where controllers like the Jamstik+ come into play. A portable, configurable controller in a guitaristic form-factor. Stay tuned for more from Zivix this year!
Zivix is currently running a promo deal with Cakewalk users for 10% off your order on jamstik.com – Make sure to enter discount code: SONAR10 at checkout!