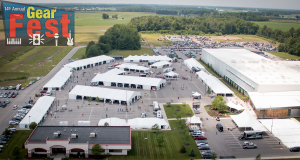 If you've ever driven through the mid-west, you know there's not a lot happening in between the cities that you encounter during the ride.  That is, unless, you happen to be driving just north of Fort Wayne, IN during the early summer month of June.  In this case, you are sure to find your way to one of the fastest growing music events in the country – Gearfest!
Cakewalk had the privilege to take part in Gearfest again this year, and I was fortunate enough to make my first trip to what is quickly becoming known as a mini Namm in the mid-west. The event is put on by a great company called Sweetwater which is basically the end-all-be-all of anything you need for gear in the cyber world.  If you can't find it in a store, or you simply just
want more choices for purchasing, you can bet that you will find it at www.sweetwater.com.  Sweetwater is also known for having one of the most knowledgeable staffs in the industry, and if you just give them a call with a question you are sure to have an answer quickly by someone at their facility.
The first thing notable about Gearfest is the size of the event.  What started out  not to long ago as an idea to bring local people together for the community, has turned into a 10,000+ strong conference which now spans over 2 days and includes an interesting and unpretentious concoction of artists, industry professionals, music fans and gear-head-musicians from literally all over the globe.  The second thing to note is that it has its own vibe and culture very unique to itself.  Many music oriented conferences and/or festivals for that matter sometimes turn into promotional spectacles for those trying to gain an edge on their profile; Gearfest is the opposite. Continue reading "Why Musicians from all over the world are attending Gearfest"