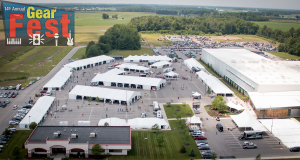 If you've ever driven through the mid-west, you know there's not a lot happening in between the cities that you encounter during the ride.  That is, unless, you happen to be driving just north of Fort Wayne, IN during the early summer month of June.  In this case, you are sure to find your way to one of the fastest growing music events in the country – Gearfest!
Cakewalk had the privilege to take part in Gearfest again this year, and I was fortunate enough to make my first trip to what is quickly becoming known as a mini Namm in the mid-west. The event is put on by a great company called Sweetwater which is basically the end-all-be-all of anything you need for gear in the cyber world.  If you can't find it in a store, or you simply just
want more choices for purchasing, you can bet that you will find it at www.sweetwater.com.  Sweetwater is also known for having one of the most knowledgeable staffs in the industry, and if you just give them a call with a question you are sure to have an answer quickly by someone at their facility.
The first thing notable about Gearfest is the size of the event.  What started out  not to long ago as an idea to bring local people together for the community, has turned into a 10,000+ strong conference which now spans over 2 days and includes an interesting and unpretentious concoction of artists, industry professionals, music fans and gear-head-musicians from literally all over the globe.  The second thing to note is that it has its own vibe and culture very unique to itself.  Many music oriented conferences and/or festivals for that matter sometimes turn into promotional spectacles for those trying to gain an edge on their profile; Gearfest is the opposite.
There was no shortage of artists and music industry professionals roaming the halls and tents, but there was an absence of any preconceived superiorities for which some conference have become to be known.  Now I am not saying that all music conferences are based around egotism so please don't get me wrong, I am simply stating that Gearfest is really about community, family, and people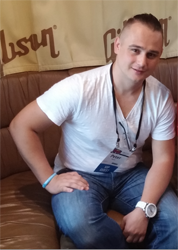 coming together for the love of making music and learning about how to better their craft – on any level.  A great example was me having the privilege to meet and chat with Rapture Pro user (and general Cakewalk fan) Peter Kontor who is an electronic musician/producer/DJ making some great tracks out of Chicago. Peter makes the trip down from Chicago every year just like many others from that area.  I also had a great experience of attending a panel put on by Gibson Executive (and Cakewalk advocate) Craig Anderton, where he explained in detail what really goes down when you master inside your DAW. On the rare occasion these days that I do create music, I find myself mastering my work more and more when I am delivering something for a film, or for something else with a low budget.  In just one hour Craig got into some great tips, tricks and advice that had me rethinking my approach to mastering inside the box.
On day 2 (Saturday), I had the privilege to be a guest presenter at the conference where I interviewed rising EDM star and SONAR user iLan Bluestone.  The interview, which also turned into a technical demonstration on our Surface Pro 3 (Intel Core i7,) gave the crowd a lot of insight into this gigantic sector or the "music business" now known to the masses as EDM.  One of the
most interesting points the articulate Bluestone made was on how creating music for his fans is different than writing a song in other genres – which is something I never really thought about.  "The industry really is about the live performance and how the music translates into the vibe of those shows," iLan told the crowd.  "When I write a track, I combine what's in my head with how I think fans in an audience are going to receive the music.  I almost have to remove myself, from myself, and put my brain into the perspective of the fan."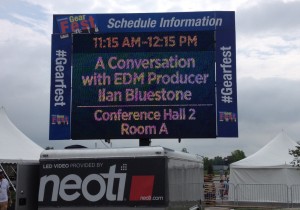 iLan also went on to talk about the importance of social media, as well his procedure for getting mixes that translate to the clubs.  Another snippet that was great to hear was his explanation of why he chooses SONAR as his DAW.  Of course I knew the answer to this question already, but tohear him explain it to the crowd in his own words made a lot of sense.  According to iLan, SONAR gives him more options to continuously create fresh new sounds and tracks. "There are so many different ways to approach music in SONAR,
so I am able to constantly design new sounds.  That combined with how fast the workflow is gives me more options than other platforms to stay ahead of the game with new sounds. In terms of the sound quality, SONAR simply sounds the best.  I play many stages where there is a lot of music made in other DAWs, and depth I get out of SONAR is simply incomparable."
A video of iLan's Gearfest panel will be posted soon, but in the meantime you can catch more of his approach to music creation in this post-panel interview on the Gibson tour bus hosted by Electronic Musician Magazine: