Cakewalk and Gibson Brands will be participating in the New Music Seminar this week, so if you happen to be in NYC please make sure to stop in and say hello.  The New Music Seminar is one of the most prestigious music conferences in the United States, and is held annually each June in New York City.  It originally ran from 1980 – 1995 and was re-launched in 2009 with great reception by the music community. The conference features over 150 CEOs, Presidents, Executives, and leaders in the emerging music business along with over 100 artist performances. The mission of the New Music Seminar is to grow a sustainable and better music business to allow creators the best opportunity to succeed. The NMS strives to enable more artists to achieve success and encourages new levels of investment in music and artists.
Please join Cakewalk and Gibson Brands at New Music Seminar:
————————————————————
Monday June 22, 2015 7:00 pm – 9:00 pm
How to Train Your Computer to be a Songwriting Partner
Gibson Showroom
421 W 54th Studio 5
New York, NY 10019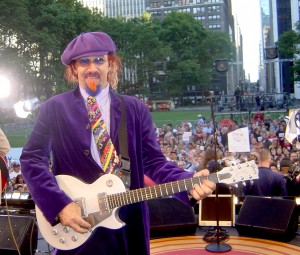 Come join a private in-studio session at the Gibson Showroom [Cakewalk] Studio 5 NYC:  In a world of zeros and ones, where does the computer fit into traditional songwriting? Songwriter/producer, Mark Hudson, ("Living on the Edge," Aerosmith – amongst other hits) and digital pioneer, Craig Anderton, along with producer/songwriter Jimmy R. Landry will interactively cover new approaches to songwriting for the modern-day musician.
Tuesday June 23, 2015 11:30 am – 12:30 pm
Leveraging The Relationship: Artist and Brand Alignment:
Gramercy Park Suite
Wyndham New Yorker Hotel
481 8th Ave, New York, NY 10001
With the shifting paradigm of the music industry and how artists engage with fans, the importance of relationship management is more imperative than ever. What's the protocol for artists approaching companies and brands, and once that relationship is established how can it be leveraged for the benefit of both? This panel will dive into strategic plans for artists looking for endorsements and partnerships, while also dissecting past examples that have resulted in success.
Conductor: Jimmy Landry (Head of Artist and Public Relations, Gibson Brands)
Players: Perry Greenspan (Director of Strategy, Platinum Rye Entertainment), Elliot A. Resnick, Esq. (Attorney at Law, SAHWH, LLP), Aimee Berger (Founder/Partner Camplified/ItACampThing, Primary Wave Entertainment), Amaechi Uzoigwe (Manager, RUN THE JEWELS), Ryan Fitch (VP Sync Licensing & Brand Partnerships, MAC Presents)
Tuesday 2:30 pm – 2:45 pm  – NMS Intensive:
Grand Ballroom
Wyndham New Yorker Hotel
481 8th Ave, New York, NY 10001
Hi-Res Audio: So What?
Conductor: Craig Anderton (Executive Vice President, Evangelist, Gibson)