Congratulations and thank you to the New Music Seminar for another great conference year. In 3 days there were many panels and workshops with useful information for just about anyone in the music industry.  On the music side of the coin, the artists involved this year were simply stellar, and offered a refreshing look at new talent.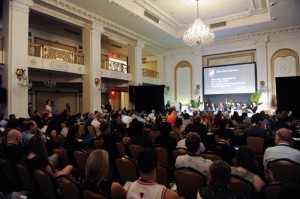 The New Music Seminar (NMS) is a forward-thinking, annual music conference and festival acting as a catalyst for change in the music industry. Taking place in NYC from June 21-23, 2015, NMS this year was dedicated in exploring new ways to support artists, exchanging of business ideas, and showcasing the next generation of stars. The conference portion held at the Wyndham New Yorker Hotel kicked off with an exhilarating array of movements on Sunday, June 21st ending with an outstanding turnout for the opening night festival featuring none other than Melanie Martinez.
Cakewalk and Gibson Brands were both busy during the conference with panels, workshops and also sponsoring the event with a final prize package to the winning AOV (Artist on the Verge.)  Our first engagement was a private songwriter's workshop at the NYC Gibson Showroom titled: How to Train Your Computer to be a Songwriting Partner. This workshop was nothing less than pure entertainment featuring songwriter and producer Mark Hudson and digital pioneer/Gibson EVP Craig Anderton.  This workshop was a discussion and presentation on modern-day songwriting, and how you can stay more creative in the digital world with some simple (but not so obvious) tips and tricks.
Of course when you are with someone who wrote songs and recorded with Aerosmith, Ringo Starr and Ozzy, there's no shortage of entertaining stories which was the case here.  In between the stories we introduced some concepts such as setting up songwriting templates in DAWs, keyboard shortcuts for songwriting, hardware optimization and many other ideas to stay creative when writing.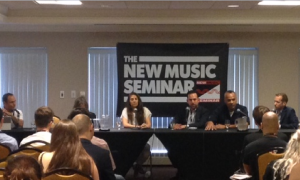 On Tuesday – day two, I had the honor and privilege of creating and moderating a panel with some industry colleagues from my former job in the recorded music business.  The panel was titled: "Leveraging the Relationships: Artist and Brand Alignment." I developed this subject keeping in mind that with the lack of label deals and label support these days, brand-alignment for artists is more important than ever.  Fortunately I was able to bring together five prominent figures from the industry who are very well versed on this subject. Here is a recap of the highlights from each panelist:
Elliot A. Resnik, Esq.
Shukat Arrow Hafer Weber & Herbsman, LLP

Elliot is one of the sharpest entertainment attorneys of this chapter in the music industry, and has been the glue for many substantial artist/brand deals.  He noted that brand deals, sponsorships and endorsements come in a lot of different flavors from one-offs to collaborations, to tour sponsorships and beyond.  One example he dissected was a Puma co-brand and song license from a client on a worldwide campaign where the song was synced for the ad, co-branded with a custom site, then extending to the product launches in stores.
Aimee Berger
Primary Wave, Founder/Partner of http://camplified.com

Aimiee Berger has to be one of the most creative professionals in this field of work. She has always been able to spot lanes of opportunity and then turn those lanes into multiple channels of success.  An example of this is her development of "Camplified" where she pairs summer camps up with some of the most talented cutting edge artists, and then ties in brand-alignment to those engagements.  So in a nutshell, young impressionable campers experience new artists and cool brands with a positive and dedicated experience – branding does not get any better than that in my book.  Aimee is embarking on her 14th season with Camplified and has brokered deals for this summer session with Scholastic, Hint Water, Roland, Ion Audio, Ultra Music, Nickelodeon, and On Ramp Digital.
Perry Greenspan
Director of Strategy, Platinum Rye Entertainment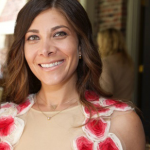 Perry is another modern forward thinker who gave great information on the intricacies of exactly how some of these major deals come together.  She offered some great insight to the panel-goers on her company's deal with Carrie Underwood for Olay (a P&G Brand).  Perry was instrumental on how Platinum Rye secured Underwood for an overall endorsement deal to be the face of the brand, and then subsequently sponsored her tour.  Here is a link to one of the commercials.  Perry also noted how Underwood came into their office to discuss partnerships and mentioned her organic love of Olay products; and also how that meeting transpired into an authentic campaign with Olay.
Amaechi Uzoigwe
Artist Management – Run the Jewels | Content | Strategy | Biz Dev | Advocacy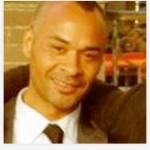 As one of the most respected soldiers in the modern-day music industry, Amaechi brought his years of vast experience (Co-founder, Definitive Jux / Chairman, A2iM / Head of Content & Business Affairs, Offical.FM) to the table in the form of his management role with Rune the Jewels.  If you are not familiar with this artist, I suggest you take a look at their website, and then do some research on their successful career.  Amaechi has carefully put together branding deals for RTJ in a way that has elevated the group's career through authenticity.  Some of these branding deals discussed included song licenses and campaigns for Prada, Adult Swim, HBO, Under Armour and Jack Daniels to name a FEW. Also noteworthy was Amaechi's disclosure that the artist has given away over 700k albums which has catapulted them into many new opportunities.  When I asked about the end-game strategy for funding since albums are free, the logical answer was of course "live performances."
Ryan Fitch
VP Sync Licensing & Brand Partnerships, Mac Presents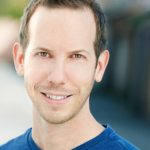 Branding and synch expert Ryan Fitch weighed in with great information on exactly how some of these deals and ideas are originated.  This was imperative information for everyone in the room as he stated that "you actually never know where things are going to come from."  He went on to state that it could come from an amazing song that an independent artist has written which just might fit perfectly into a brand's campaign.  One case study he gave that his company recently worked on, was a recent partnership between Southwest Airlines and Imagine Dragons.  They knew almost a year ahead of time that Imagine Dragons was releasing a new album, and they were able to create a program around it with sweepstakes.  Fans were awarded to see the band perform in intimate mini-tour settings in key markets, and Imagine Dragons even performed a private show on one of the planes from Las Vegas to Atlanta which created a lot of great press for both Southwest and Imagine Dragons.
Finally, to close out such a great event, Gibson's own Mr. Craig Anderton gave a 15 minute thought-provoking presentation titled "Hi-Res Audio – So What?" covering some insight on where our digital environment is headed. As always, Craig took the crowd on an interesting journey with specific audio examples and facts demonstrating what happens when a song is "compressed" down to a lower file size.  Interestingly enough, we all found out that in reality, this process is actually "data omission" rather than "data compression" where audio information is syphoned out during the process.  So what can one do in order to withstand a higher grade of fidelity in this realm you may ask?  The answer is to set your DAW to record at a higher sample-rate resolution such as 96k.
On top of all the panels and detailed industry information shot around the hotel, one could not overlook the quality of untapped talent that the NMS is really all about.  By even just walking the halls in between panels you could hear great songs and performances coming from the main ballroom day-stage.  One band I briefly witnessed called "Belmont Lights" gave me some good ole déjà vu of back when conferences showcased actual "unsigned" artists that had the goods of Major Label acts.
And finally-finally, congratulations to Grace Webber who was chosen as the breakout artist for the Class of 2015 NMS – Artist on the Verge.  Grace was presented a great prize package from Gibson Brands along with all the accolades that come with winning the honor – we wish her all the best.
Thanks and congratulations #NMS15… see you next year!