SONAR at Sun Studio: The Birthplace of Rock 'n' Roll
Chief Engineer James Lott and Assistant Engineer Matt Ross-Spang
By Randy Alberts
"Our clients love what we do for them here with SONAR," says James Lott, chief engineer for over 20 years at the legendary Sun Studio in Memphis, Tennessee. "It sounds great and we've been using it for a long, long time. But most of all they trust us and how we're using SONAR to record them. When we tell a band 'OK, you can move on to the next song now,' they trust us completely."
Spoken on behalf of Sun Studio—the birthplace of rock 'n' roll and the country's only National Historic Landmark with a digital audio workstation in the tour—Lott's professional trust in Cakewalk's SONAR shouts volumes.
"Like a good horse," he adds with a laugh, "when something in a studio runs as fast as SONAR and does everything you tell it to, then you're gonna ride that horse a long, long way."
Tracking History Then & Now
The sheer history of music behind Sun Studio, since Sam Phillips first built it in 1950, deserves far more space than this story allows- to give it proper justice.
Those who visit Memphis, especially musicians and engineers, would not want to miss taking one of the studio's daily tours to learn more about the studio's historic past.
Elvis recorded his first two songs at Sun Studio in 1953 for $3.25, when it was still called Memphis Recording Service. Before Elvis, there was Jackie Brenston & His Delta Cats who recorded the world's first rock 'n' roll single, Rocket 88, at Sun, originally composed by Ike Turner.
With all the history within the studio's walls—the same cozy 25×20 live room, tight vocal booth, tiny control room, and tiled front office where the original studio manager, Marion Keisker, sat in for the absent Phillips' to record Elvis' first songs—Sun is one of the top, most vibrant studios in the world today.
Recently, Lott used SONAR to track, edit, and mix projects for Liz Phair, Matchbox Twenty, Maroon 5 and Bowling for Soup. Tom Petty, a tape devotee, also recorded some new tunes at Sun with the studio's prized MCI 24-track machine. Another recent SONAR session at Sun involved Amy LaVere, an Americana music composer and vocalist who expertly plays an upright acoustic bass far taller than she. Billy Bob Thornton's band too, was due in for another Sun session shortly after our interview with Lott.
"The vibe of this place, this sort of 'welcome homey' kind of feel, is really what brings people back here all the time," says Lott.
"Billy Bob is a longtime friend of Sun, in here for the fourth or fifth time now, and it's his birthday, too. He told us that he wanted to come celebrate and to make some music up in here. It's very old school here: not much has changed from the old days. There's the same floor tiles, control room, front office, and even old lamps from the '50s hanging from the ceiling. Even Marion's front desk is still here, the same one she was sitting at when Elvis first walked in the door. Besides our staff and the gear we use, it's the original vintage vibe of this place that keeps 'em comin' back."
Tracking Rattles & Hums
Lott, who began working at Sun in 1987, still chairs 90% of the studio's sessions. His first job was recording U2's Rattle & Hum on an old Akai 12-track recorder.
"That was a madhouse," James recalls of U2's historic Sun sessions. "We were squeezing all of that—a four-piece horn section, three female singers, the band, and a film crew for their movie—into our small space."
Lott began using Vegas and Cakewalk 9 about 10 years after Rattle & Hum. He has been a dedicated DAW and SONAR user ever since. Save for the occasional 2-track editing in other programs and the occasional projects like Petty's going to tape, everything Lott and his assistant do at Sun- is produced in SONAR.
"Everyone who's been around Sun just loves the fact that SONAR is so much faster," says Lott. "They like not having to wait for the tape reels to take up" (He imitates the fluttering sound of the vintage tape, slowly ramping up to speed then closing down). He enjoys the suggestion of an imaginary new audio plug-in that would deftly re-insert the same sound of winding tape reels back into his digital mixes.
"Yeah," he laughs, "that'd be a classic plug-in for us here at Sun."
The Luckiest Guy In Memphis
Matt Ross-Spang is a 21-year-old engineer, musician and Memphis local who began as Lott's intern when he was just 15. He may be the only recording studio tour guide ever to have interned and become an engineer in the same studio.
At 14, just before he started giving daily Sun Studio tours to Memphis' Elvis Week tourists, Matt saved up enough dough to record his band's music for three hours. Sun needed an intern at the time and Matt—who Lott describes as "my right arm, the future of Sun, and a sponge who learns everything I know"—jumped at the opportunity.
"Back then it was just a hobby," recalls Ross-Spang of his early band and songwriting days. "But I became James' intern and learned about recording and mixing by watching him and bugging him about a bunch of things. I'm constantly asking him questions. Living here in Memphis, I was always a fan of this studio. It's an honor and a blast working with James."
Matt has learned a lot about using SONAR while at Lott's side. The two now wear many hats together at Sun; including manning the video equipment to tape a client's session or two, for a new series of Webisodes the studio is posting on their site called Sun Sessions (think Live from Abbey Road meets the birthplace of rock 'n' roll).
"SONAR is an amazing program to sit down with," says Ross-Spang. "It's far more user friendly than the other DAW programs I've used. It's easy for me to figure out. Still, I can do all the crazy stuff I want with it! A couple of bands recently used Dimension Pro here, too. James and I assemble beats and tracks together between sessions with Session Drummer and Dimension Pro.
The piano sounds Dimension Pro has are incredible. In studio, we've got a great old, beat-up honky-tonk 54-spinet piano. The same one that's been here all along from Sun's early days. We don't have a grand piano, so it's really nice having Dimension Pro's great-sounding grand pianos at hand."
Overall, Lott states, "we've been really happy here at Sun with SONAR's sound quality, speed, and stability. With a nice quad-core system you can do anything in SONAR. I've got an old RCA 44 analog board and 77-DX microphones that don't even need a preamp or EQ on the front end. With SONAR, we can just go right to the board."
When asked about SONAR's 64-bit engine, James Lott gives another honest reply.
It's All In The Ears
"I don't know how to answer that question," Lott responds with a laugh, "but to say that I love how SONAR sounds. He explains his simple, yet effective theory of editing.
Everybody's ears are different. Comparing listening quality tests is such a subjective thing. I don't participate at all in those conversations about whose engine and what platform is better based on test results and such. It just comes down to what you're hearing!
People have made great records on the old single-track mono machines. Many, right here in this room I'm sitting in. All those great Elvis tunes were recorded here by Sam [Phillips] to 1/4-inch mono tape. All it takes is good ears, competent equipment and the patience to learn how to use it all for everything you record and mix."
Lott says he and Ross-Spang also enjoy using many of the plug-ins bundled with SONAR, particularly Boost 11, VC-64 Vintage Channel, Linear Compressor, Tape Delay, Tape Sim, and the Lexicon Pantheon reverb plug-ins.
Considering the epic rock 'n' roll and Dixie R&B history and all the vintage gear found at Sun Studio- as well as the expertise of the two guys behind the desk there these days- it's safe to say that folks like Billy Bob Thornton, Matchbox Twenty and Liz Phair keep coming back, at least in part, because of SONAR, Sun's DAW of choice for years now.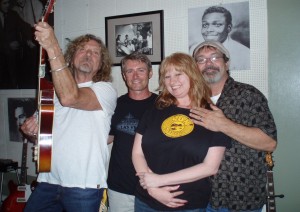 "SONAR is very stable, and it does everything we ask of it here at Sun," sys Lott. "Like I said earlier, if the equipment in the studio stays out of the way and does everything you tell it to, like a good horse should, then you'll ride that horse a long ways!" (laughs).
As we end our conversation, James Lott, a down-to-Earth, very humble man as one can have the pleasure of speaking with, described a few recent visitors to Sun. Robert Plant, between tour dates with Alison Krauss, stopped by for "just a social visit and dinner to talk about the blues and rockabilly," as did Bill Wyman of Stones fame, who did a book signing party at the studio. Wrapping things up, James described one of the many great photos hanging on the walls of the legendary Sun Studio.
"It's a shot of [Atlantic Records co-founder] Ahmet Ertegun, Sam Phillips and myself in the control room watching Matchbox Twenty in the studio," he says. "I look at that photo every single day. I'm sitting in the middle of Sam and Ahmet, two of the greatest producers in the history of recorded music telling me completely opposite things to do with my mix! That photo says to me, 'At some point you just have to close your eyes and do what you think is best for the song.'"
———————–
www.sunstudio.com