1. Les Paul's 96th Birthday
For the man who created musical history, Google put together an interactive guitar app that allows you to strum, record, and enjoy the wonderful sounds of a classic Les Paul. A sound that has defined guitar for the past century.
2. Robert Moog's 78th Birthday
A tribute to Robert Moog, who brought us the electronic analog Moog Synthesizer. This, just like the Les Paul, became a staple in musical history.
This highly interactive app let's you shape just about any sound you want and then record, playback, and share it with your friends.
3. Claude Debussy's 151st Birthday
This Doodle plays Claude Debussy's Clair de Lune. The developer was able to sync this beautiful animation to a sequence of one of Debussy's most recognized and magical pieces.
4. John Lennon's 70th Birthday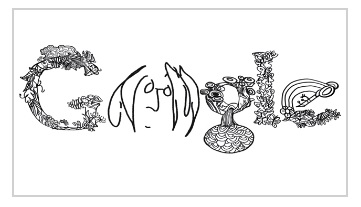 To pay tribute to one of the most influential people of the 20th century, Google Doodler's put together a short animation that plays Imagine synced to a psychedelic landscape of moving pictures.
5. 30th Anniversary of PAC-MAN
This one is probably more on the gamer side, but that music could never be mistaken for any other game in history. Simply click on "Insert Coin" and you'll kill at least 5 minutes of your day reliving  the most classic game created for arcade.
6. Freddie Mercury's 65th Birthday
An incredible animation for Queen's "Having a good time" was posted to take you on a visual anecdote in memory of rock legend Freddie Mercury. The animator cleverly incorporated themes from other famous songs like "Bicycle" as well as wardrobe that Freddie sported during his years of fame.