–SONAR 2017.05 Update release looks to the past, present and future of desktop music production with Ripple Editing, a new Adaptive Limiter and Pen support for MIDI editing–
Let the 30th Anniversary Celebration Begin!
May 2017 marks Cakewalk's 30th Anniversary, so we're throwing a year-long party—and everyone's invited!
We've lined up some cool freebies, specials, and surprises you'll be seeing over the next 12 months, starting with 30 free, expertly crafted presets for the QuadCurve EQ to kickstart your mixing and mastering projects.
What's more, by popular demand we're bringing back the eZine, and taking it to the next level as a new publication—Tech+Music. Each month's issue is packed with news on the latest program updates, as well as tips, product reviews, articles on studio techniques, and more.
This month, our partner spotlight shines on Softube — we'll introduce you to the Console 1 Mk II, including a giveaway, and we'll be offering their high-end Tube Tech Classic Channel at a rock-bottom price.
Last, but not least, our giant SONAR 2017.05 Update looks to the past, present and future of desktop music production — featuring Ripple Editing, our new Adaptive Limiter, and Pen support for MIDI editing.
Thank you for your support as we embark on our next 30 years of innovation.
Now let's dive in to the SONAR 2017.05 Update…
To celebrate our
past
and honor our loyal customers
We're happy to announce the release of a long-time feature request for SONAR: Ripple Editing is now included in the SONAR 2017.05 Update, availability now.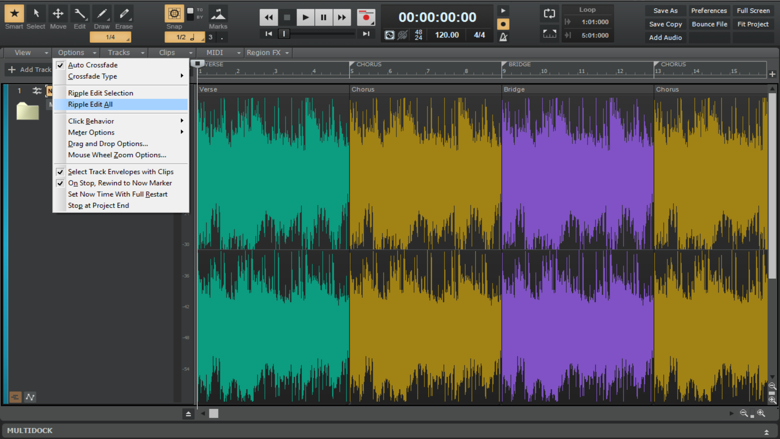 Ripple Editing provides a convenient way to rearrange sections of a song and maintain sync relationships without leaving unintended gaps between clips. When adjusting the position of a clip in the Track view, SONAR will automatically adjust the start position of all subsequent clips to compensate for the change. Users may choose to ripple edit just the selection, or all tracks as well as meter/key changes, tempo changes, and markers. Supported gestures include; Cut, Copy, Paste, Move, and Delete. Use these gestures on Tracks or Buses and the automation will also follow.
Following up on our
current
developments
Cakewalk's new Adaptive Limiter is the perfect complement to our acclaimed L-Phase Equalizer and Multiband plug-ins, now available in SONAR Professional and SONAR Platinum as part of the Engineering Suite. Along with a gorgeous UI, brickwall limiting, and inter-sample peak detection, the Adaptive Limiter provides 4 different character types that cover a variety of mixing and mastering applications.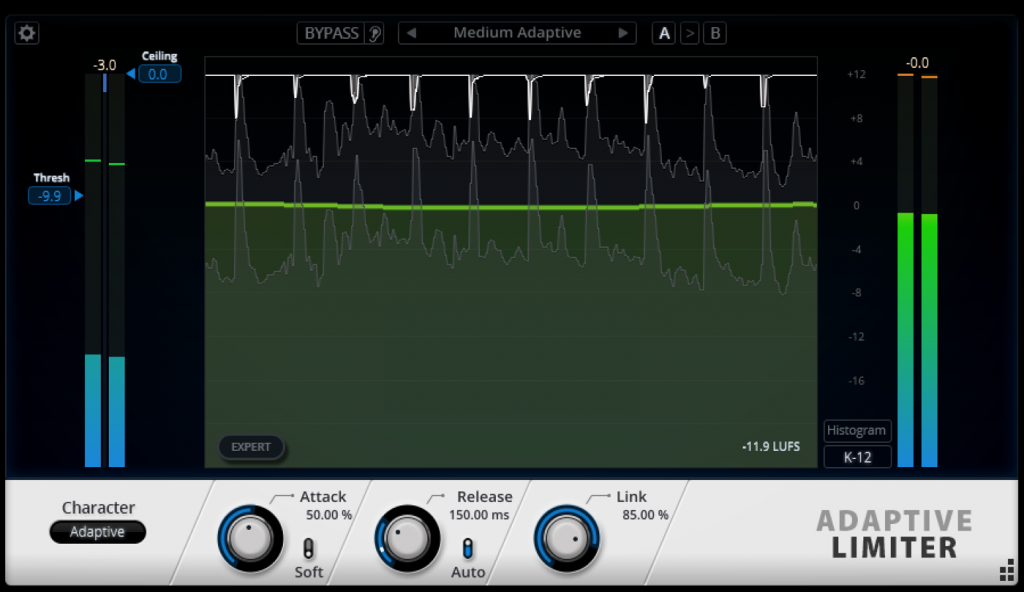 The default

Adaptive Mode

provides program-dependent attack, and when combined with auto-release mode it becomes a high-impact, set-and-forget limiter ready for anything in its path.

Aggressive Mode

uses a linear release curve capable of adding a warm overdrive to tracks and masters.

Dynamic Mode

is a more transparent processor that includes an enhanced transient shaping stage to emphasize percussive sounds

Pumping Mode

is similar to Aggressive mode, but has a quadratic release curve that adds body, great for track limiting and EDM masters.
Looking to the
future
of desktop music production
Cakewalk has been working with Microsoft to create fantastic new creative experiences for PC's supporting the Pen, like the new Surface Pro and the Dell Canvas. The Pen has come a long way — the precision control and natural feel that the Pen provides is the next leap forward from touch interfaces. To introduce this exciting new innovation to our customers, we added Pen support for MIDI editing in the SONAR 2017.05 Update. Simply use the Pen to draw MIDI notes on your screen. Pen pressure sensitivity gives you simultaneous control over note drawing and controller data. The Pen Eraser lets you simply delete MIDI notes — just like you would expect with a real pencil eraser. Use the Pen button to either to lasso-select notes or pop up a context menu.
One quick note — as we studied how the Pen should work in SONAR, we learned that this tactile experience quickly expands to using more Touch capabilities. As a result, in this massive SONAR 2017.05 update we also introduce improvements to using Touch for zooming, scrolling and resizing of the Track View and Piano Roll view, as well as resizing the MultiDock, Browser, and Inspector in the Skylight Interface.
Click here for SONAR 2017.05 download info
Just one more thing…
Lastly, and perhaps the most important news for our customers, we've revamped our internal quality assurance and bug fixing processes to allow us to fast-track customer-reported issues — not just for this release, but for all future SONAR updates. Should you encounter any technical issues with SONAR, please let us know at http://www.cakewalk.com/support.