As you may know by now, the Bakers at Cakewalk are constantly on a mission to improve upon SONAR. Whether that's a bug fix, a new feature, or a feature enhancement, we're giving you the tools to be creative and get the job done. In 2016 we brought you workflow improvements for comping such as improved copy and paste functionality, keyboard shortcuts (adjusting stretch and crossfades), as well as visual improvements and customization options for take lanes. With the 2017.02 release we take things to a whole new level, with a host of new features based on your feedback. Don't forget, if you have features or enhancements you'd like to see, drop us a line at bakery.cakewalk.com and let us make SONAR even better! For now, let's dig in:
Though there are plenty of uses for comping, I use it for two reasons: getting the right vocal take, and coming up with just the right leads or solos when writing guitar parts. It can get a bit congested and even overwhelming when trying to get it just right. Luckily, the Bakers have made my projects feel less like work and more like what I'm actually doing; writing a song.
Anchors Aweigh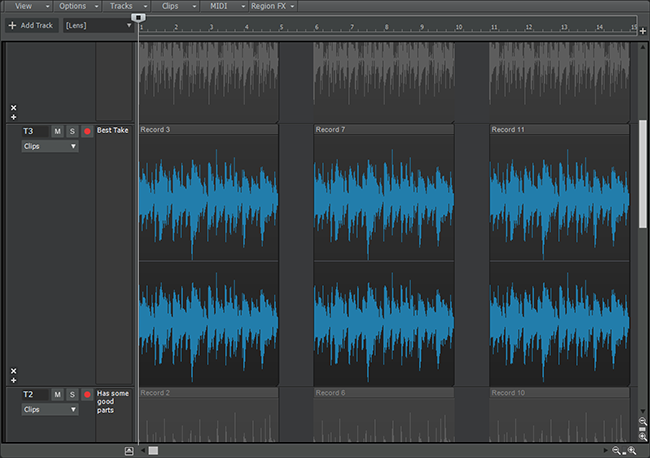 In essence, a great recording is all about capturing the moment. You've got that perfect take, and stop what you're doing to resize the lane you want to work in. If you're not careful, you could resize it right out of your view! The Bakers saw this one and made a simple fix: Anchor the selected take lane. Now when you select a take to resize, it will always stay in view. No more scrolling and losing momentum! Want to take that one step further? Try double clicking to maximize or restore a take lane to its original size. It's that easy!
SONAR: Now Environmentally Friendly!
Speaking of less scrolling, this next feature is one that will make in-depth comping easier than ever. Do you use recording as a tool to write parts? I still tend to write chord structure on paper, but leave the real fun for demo recording. While this is great for listening back to the best of each take, it doesn't take long for the take lanes to add up. Instead of adding 5, or 10, or even more new lanes per track, we've simplified the process by reusing existing take lanes. Gone are the days of moving around takes to consolidate or dealing with endless scrolling through takes. Reusing lanes will optimize your workflow and keep you focused on the things you want to see. There's nothing like having a clean and efficient workflow, and reusing take lanes can help to clean your (digital) work environment!
If You Don't Hear It, You Don't See It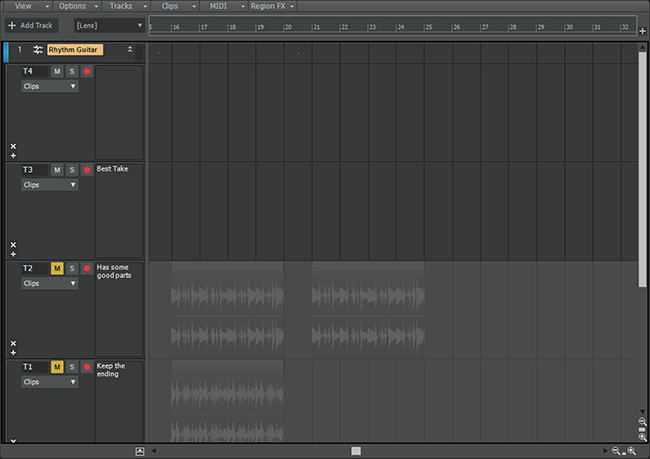 So we know that comping was once a visual challenge. We've made resizing easier, and cleaned up the excess take lanes. In addition, if you collapse take lanes, all muted takes will be hidden from the parent track. This only applies to muted takes, letting you focus on only audible clips. Muted clips stay visible, but now you can hide the things you probably don't want to hear anyway!
Just one more thing…
Aren't we here to show you some tricks with comping and take lanes? Yep! But if you've ever used Melodyne in SONAR, you know that editing with region FX can be tricky. Before, you were pretty much making a guess about how your clip editing would translate to Melodyne. Now when you crop a clip, the region in Melodyne reacts in real-time. SONAR's advanced ARA (Audio Random Access) integration makes it easier to see the changes being made as they're happening, which means less time editing and more time creating!
These are just some of the features available in the 2017.2 update, available for SONAR Artist, Professional, and Platinum via Command Center.
If you're new to SONAR, check out this comparison chart to help choose the right version for you. Each new purchase of SONAR gives you 12 months of updates like these – you won't want to miss out!