DELIVERING MUSIC FOR THE FILM "FOR BLOOD" (COFFEERING ENTERTAINMENT LOS ANGELES, CA)
Sometimes I am fortunate enough to have the time to take on a project outside of Cakewalk, and I love that those projects let me put our current SONAR Platinum "Rolling Update" to the test in the field. Recently, the LA-based production company Coffee Ring Entertainment asked me to write, produce and deliver three tracks for their new movie, For Blood. This article describes highlights of the process involved in writing and producing one of those tracks for a specific scene in the film.
My first question to the director was, "Do you already have placeholder music in the rough cut?" When producers and directors have placeholder music they like already set into the cut, it speeds up and simplifies writing and producing the music. Fortunately the answer was "yes," so all I needed to do was replicate what they liked about their placeholder tracks using the array of instruments and plug-ins in my home project studio rig.
A primary objective in writing music for film is to forget about yourself and your own emotional agenda. And oddly enough, for me at least, this notion really speeds up the workflow because you are writing/producing for someone else's purpose other than your own thoughts. Adamantly keeping this in mind throughout the writing/producing process helps to stay focused on what the client wants. For this song, it's exactly what I had to do because the producers had a Tarantino-ish type track set into the scene, and my innate production style tends to lean more towards big, clean commercial pop rock. Luckily, I could go to YouTube and analyze suitable styles of music but even luckier for me, SONAR's Addictive Drums and TH2 plug-ins were  ideal for dialing in the kind of music that was needed.
BUILDING THE FOUNDATION 
With any track, there has to be a start—it's the song's foundation upon which everything else builds. The start doesn't have to be drums, but considering the style of music it was the most logical place to begin. I usually start with my Track Templates of Addictive Drums (AD) where I have moderately complex routing architectures consisting of everything going to separate tracks, then to multiple buses with different layers of parallel compression and EQ. However, for this project I needed to dumb down the polish and sheen a bit, so for the first time I kept everything inside of AD.

As a result, I found that AD has a very sweet FX processor which rivals just about anything I've conjured up outside of its own element. After browsing through a lot of kits (for the record, I absolutely love this process) I ended up using the Black Oyster Kit's "Thin and Smacky" preset. From this foundation, I began to audition different MIDI patterns from the program's internal library. This library is a huge feature, as the stock MIDI loops are so good that I end up having to modify them only after I get the right feel for a song. I'll usually set up the song completely with loops, finish the writing, and then return to MIDI to make adjustments for more variation in the patterns/dynamics.
I ended up using different patterns from the "Straight Beat" library, and then added my own tom hits using my controller. This process of writing drum parts really went hand-in-hand with the writing of the song― what I love about AD is that it becomes a writing partner for inspiration (and better yet, it doesn't need to go for smoke breaks).
After constructing the drums, I focused on finishing all the writing of the song itself. It's easy to move drum parts around with the MIDI clips in SONAR's Track View, so coming up with new parts is relatively simple and creative. At this point in a project, I'm more concerned about getting great lyrics and melody rather than the tones of the instruments. However, this part of the creation process is the most grueling because everything needs to revolve around the lyrics, melody and message—if that's not on point, nothing else really matters. Once I felt confident that the writing was close to 90% done, I then focused in on the rest of the bed tracks.
MAKING THE BED 
Nine times out of ten I track guitars before bass, because I'm a big fan of bass players in the 1970s where the bass line truly added to the overall delivery and direction of the song. By tracking bass after guitars, I can spruce up counterparts by laying in (sometimes slightly) unorthodox bass lines. For this song, I needed some bite but also wanted the foundation to stay organic, so I decided to track and double acoustic guitars (left and right) and then run those through a hefty dose of TH2. On one side I programmed the Lynch Box Plexi with a Randall cab, and on the other a Dark Face '65 (US) through its stock 2×2 cab. After tweaking the mics and other parameters (mostly pulling out lows and adding mids), I had a really full-sounding guitar bed reminiscent of a hollow body electric.
Next I laid in a guitar track, again using TH2, which landed on the snare hits. It's a typical kind of comping technique where the guitar pulse lands on the snare and trails over with reverb. This track really gave the song the "certain feel" that the producer sought, even though he could not explain it in musical terms. Once these two parts were working together, it was time to consider adding the bass.
Coming from a guitar world, bass tracking is a challenge because I have to stay disciplined and keep myself in check when trying to write compelling bass parts. Fortunately, this song was pretty straightforward and a simple bass part fit best. Another fortunate aspect of this song was its low-fi nature, because I had only my $200 Carlo Robelli bass at hand instead of the Gibson EB5 I usually borrow. So the bass was laid in going directly through a TASCAM UH-7000, and then processed with the Guitar Rig 5 Bass Pro head and Control Room Pro combo. I finished off the sound with minimal EQing from the ProChannel's QuadCurve EQ to have the bass fit in with the AD drum bed, and was basically done and ready for vocals.
MAKING MYSELF SOUND LIKE SOMEONE WHO "REALLY" KNOWS HOW TO SING  😉
Vocals for me are always tricky. I'm a marginally decent singer who wasn't gifted in the voice box department, so it's taken me a long time to figure out different methods and techniques to make my voice sound good for different styles and genres of music. But that's the fun part about doing music for film as a one-man show; experimentation sometimes translates into decent music.
In this track I had the following vocal structure: Lead Comp, Lead Comp Dbl, and a Lead Low Octave. I ran the double and the low octave at about 40% compared to the lead vocal, and also compressed, and rolled off a lot of lows and highs to get it out of the lead's way. I also used SONAR's VocalSync on both performances to line them up to the lead which worked incredibly well—and fast! On all vocal tracks I always check for pitch trouble and then fix with SONAR's built-in Melodyne. I love having this because my tracking goes a lot quicker knowing that I can doctor up my voice later to sound better (yep, I said it).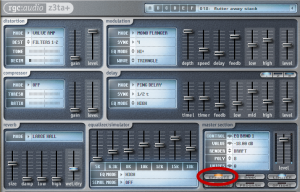 The magic in this vocal track (if you can call it that) surprisingly came from one of my FX Chain Presets which includes the Z3Ta+ Classic synth being used for its effects section, combined with an echo from PSP. I absolutely love Z3TA+ for vocals. I've tried to analyze what it is that makes it work so well, and I just can't put my finger on it other than that it just sounds darn great when mixing voices together. Each preset just brings vocals to a different place―and that's what I love about it. For channel inserts and processing there's a lot going on: From the top down I used the ProChannel's CA-2A lightly, the QuadCurve EQ in Hybrid Mode, the BT Analog Track Box for some dirt, and then a moderately hefty dose of the N-Type Console Emulator. From here, multiple sends fed different effects.
Finally after everything was layered, the track tally ended up at only 24 tracks (it would have been 40 if I routed out from AD) and 14 buses―not too bad considering most of my projects usually land somewhere between 60 and 100 tracks. For this project, I tried to keep things simple while also keeping in mind what the producer of the film wanted. The mixing was straightforward and consisted primarily of SONAR's QuadCurve EQ together with some vintage EQs from Universal Audio, PSP, and Nomad Factory. For effects I used Z3TA+, PSP Springbox, Breverb, Native Instruments Guitar Rig 5 (not for guitar), Overloud's REmatrix Reverb, and some modulating plug-ins by Blue Tubes and iZotope.
I like to leave mastering to the pros, but considering this was an indie film with an indie budget, I turned to SONAR's LP-64 combo to get me in the ballpark on the master bus. Using Mix Recall comes in handy at this stage in mixing, because I like to try a lot of different mixes before sending out a final rendered reference. It's also handy since I had to deliver both instrumental and a capella versions, as well as the master.
The effort was worth it: The film's Director and Producer loved the track. There were only a few requested changes, and the song replaced the placeholder. This was the first song out of three, so having the first one pass through confidently with all thumbs up made the rest of the gig pretty stress-free. The icing on the cake was getting a text from the director letting me know that the film had just won the Kumeyaay Eagle Award at the San Diego Film Festival. I don't think I'll get the eagle, but I'm sure I'll be able to retire now considering the current state of the music industry…okay, maybe not. But at least I enjoyed the experience, and was able to put the SONAR Platinum Foxboro Release to the test before it hit the public.
"For Blood" movie home page here