Melodyne Editor's Direct Note Access (DNA) technology allows you to analyze polyphonic audio data and produce a visual representation of it. With this technology you can essentially drop in any polyphonic audio, even full fledged productions. This kind of technology could be used to remove vocals from a track, isolate instrumentation from mixes, or analyze the arrangement across a staff. Regardless of it's use, the amount of time you could spend geeking out over your favorite top 40 hits is infinite. Here I will briefly show you how to isolate or subject parts of instruments from a mix.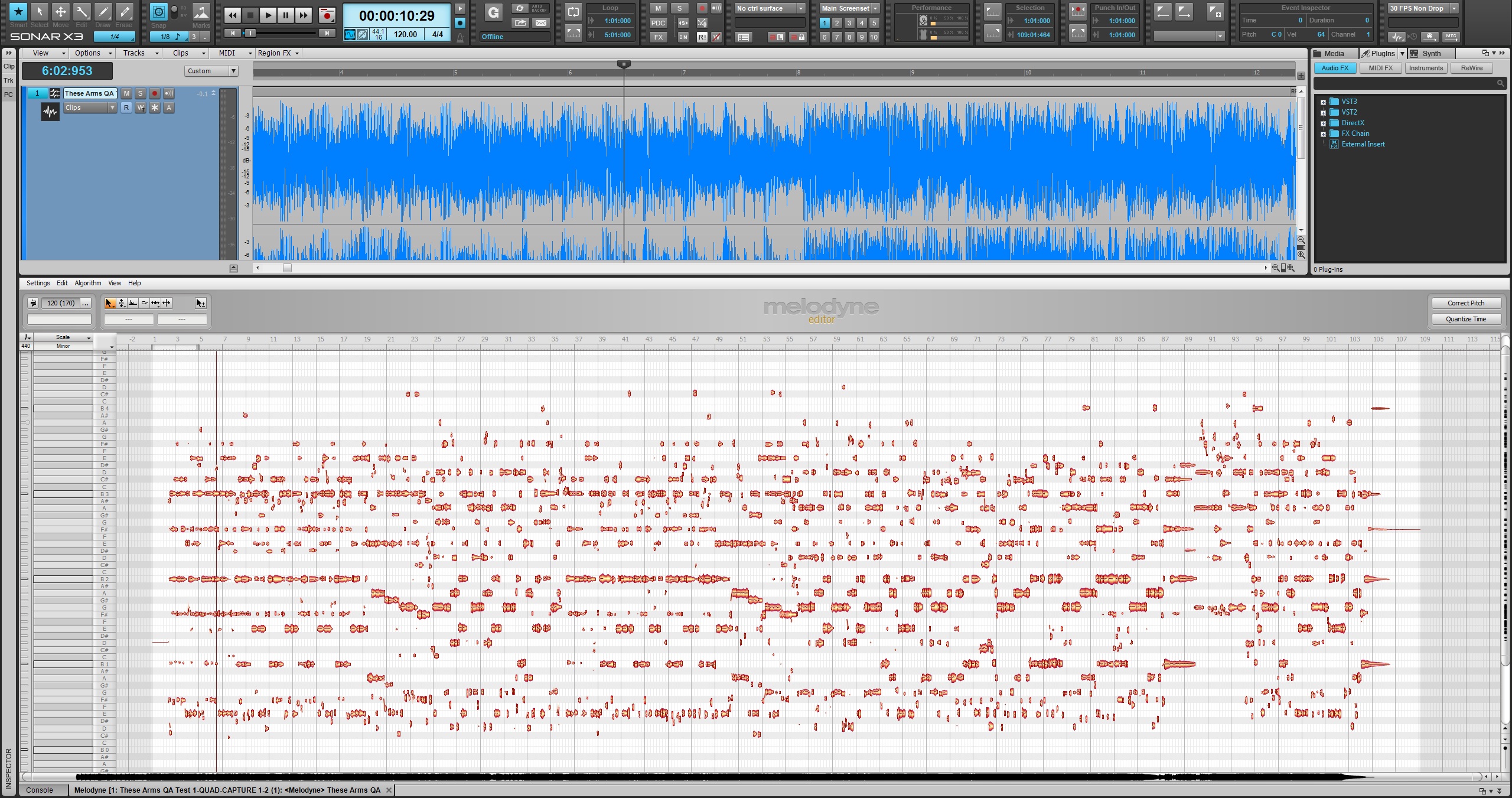 To do this,
In SONAR, right-click on your audio file and go to Region FX > Melodyne > Create Region FX.
Make sure that you have Polyphonic Mode enabled.
Let Melodyne analyze the audio file.
Once analyzed, Melodyne will show your reference track with multiple blobs in different spots on the graph. Each blob represents a note that Melodyne has detected regardless of instrument and frequency specturm. From bottom to top, depending on your audio file, you may have bass, kick drum, snare, vocals, guitars, etc. all displayed.
You can click and hold on one of these blobs to preview the note to figure out what each one represents.
Subtracting frequencies and instruments from the mix:
Select the blobs you want to work with
Simply hit [Delete] on your computer keyboard
This will delete the selected blobs from Melodyne
Isolating instruments from the mix:
Select the blobs you want to isolate
Go to Edit > Select Special > Invert Note Selection.
Now everything in the mix is selected. Hit delete.
Your instrument is isolated
Showing notation is easy too, just go to View > Show Notation and Melodyne will give you all the note's it has recognized right onto a staff page.
Obviously each mix and is going to produce different results, but the idea is simple and very easy to do thanks to Melodyne's Direct Note Access. Direct Note Access is only available within Melodyne Editor. SONAR X3 Producer and Studio ship with Melodyne Essential.
Get Melodyne Editor with SONAR X3 Producer from November 22nd – 30th.