You've got the song, the killer drum performance and everything is ready to mix but there's one problem. Your kick drum sounds awful and there's no option to re record the drum tracks. Don't panic! Using SONAR's AudioSnap 2.0 and the drum plugin of your choice, you can turn that dud into major thud!
In this video you will learn this easy process and hear the results. The kick drum on this track was recorded with a Neumann U87 large diaphragm condenser mic and while this is one of the greatest mics in history, it was the worst choice possible for this application. What I needed was a clearly defined kick drum and what I got was a dull kick with the whole kit bleeding over on top of it. Using AudioSnap 2.0 in SONAR, I was able to quickly and easily replace this kick with one of the Steven Slate kick drum samples in Session Drummer 3. After muting the original kick track, the newly replaced kick drum saves the drum mix and gives it the punch and definition missing from the original.
First, I opened AudioSnap 2.0 on my original kick track and turned on the Transient Markers to see the markers placed on the individual hits of the kick drum.
After adjusting the Threshold to only place markers on the kick hits themselves and not the other drums that bled into the track, these markers are copied as MIDI notes to a clipboard.
Next, I opened Session Drummer 3 (SONAR's drum synth plugin) and selected the included Steven Slate Sizzle Wet kit from the collection of drum kits. This kit has the kick drum sound that I wish I would have originally recorded!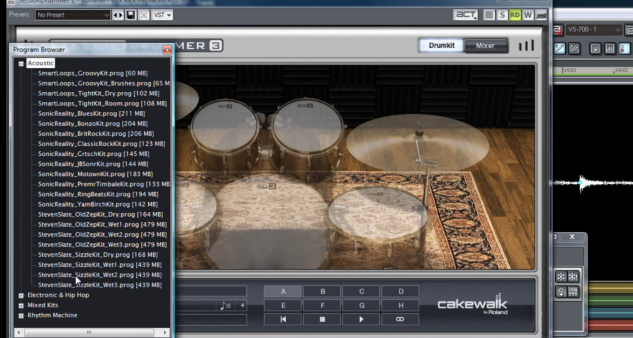 After selecting my kit, I pasted the MIDI notes copied from the  AudioSnap 2.0 transient markers of the original kick track to the new Session Drummer 3 track. I then changed the MIDI note value to the note corresponding with the kick drum in Session Drummer 3 and selected my drum mix bus as the track's output and muted the original kick track.
So after only a few minutes time my drum mix was saved and disaster averted thanks to SONAR's AudioSnap 2.0!
Learn more about SONAR and AudioSnap 2.0 and watch more free videos presented in full HD on CakeTV