From time to time, Engineer and Owner of Scadge Productions, Trev Wilkins gives us a brief update on his travels on the road and in studio. Here's the latest:
It's been a long time since I updated the blog but (fortunately) that's due to being very busy.
The Albert Lee and Hogan's Heroes DVD, Live in Rome, should be on sale now (everywhere!) after being completely mixed and tweaked in SONAR.
There's another live album still in progress for Neil Innes (the 7th Python) and his reformed band Fatso from their anniversary tour. It includes a wide range of material that I recorded during the tour including Monty Python and Rutles songs. Currently residing in a SONAR folder, it should be out early next year.
We've just finished part II of the Raymond Froggatt Live DVD which should be going to press very soon. The band liked our setup so much that they've purchased SONAR and will be recording some material for their next album in our studio.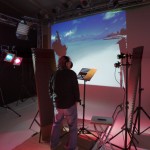 Guitarist Hartley Cain has given me all of their multi-tracks in SONAR format. We'll be recording vocals next week and then drums at some point, which he'll take back to his own studio for mixing. It's great to work this way for all of us.
I've cut down on the touring this year but have spent some time working with Robert Fripp again including opening for Porcupine Tree in Europe. It was very hard work but also great fun. Porcupine Tree is going from strength to strength and is a great bunch (including all of the crew). I recorded Robert's parts as usual and they may well appear on his site http://www.dgmlive.com in the future.
Alongside our usual activities we're gearing up for some serious 5.1 surround. Luckily SONAR has it all built in and it's pretty straightforward to get to grips with (which we like)!
To read all of Trev's updates, visit Scadge Productions on the Cakewalk blog.