Just a few short years ago, we learned of a new up-and-coming artist who was using SONAR.  After introducing ourselves and learning more, the one thing that kept resonating were the infectious melodies and counterparts embedded into his tracks.  We were delighted to witness him working in SONAR, but at the same time very intrigued that he was using SONAR 8.5.
Soon after being in touch with iLan, we were able to catch up with him face to face in his studio just north of London for a night where we introduced SONAR X3 to him.  It was a fun night and very interesting to watch a pro's reactions going from 8.5 to X3 considering that undoubtedly the platforms are truly different.  There were some moments of, "Whooaaah… that will save me a ton of time," and there were moments of, "Ummm…that will take a while to get used to."  Leaving iLan to his own devices we were really unsure where he would take it.
Toggling back and forth from 8.5 to X3 for a while, iLan finally found his stride with SONAR Platinum.  He told us, "After working on both 8.5 and X3, once I was on Platinum there was no going back.  The basic features alone like the smart tool and Mix Recall not only save me a lot of time, but allow me to create things I could not create in 8.5. With the amount of tracks I create and pace of my workflow, the fact that Platinum is rock solid and really fast means everything to me.  8.5 always allowed me to 'not' sound like everyone else in my genre, and Platinum just continues that path for me."  iLan's first full production in SONAR Platinum titled "Bigger Than Love," a collaboration with singer/songwriter/artist Giuseppe de Luca was recently released on Anjunabeats and quickly found its way up the charts to the #1 spot on Beatport.
This was a unique production for iLan as a first-true collaboration with another artist, his first song with a dedicated vocalist, and also including a full production video along with the track itself was something new for him.  "I came up with the title and some basic concepts and words, I wrote the basic track and then Giuseppe took everything to another level," iLan told us.  The track was written primarily by iLan who would then share stems with Giuseppe in his studio who is on Logic.  "We had no problem with Giuseppe being on Logic and me on SONAR—these days a lot of people on different platforms are collaborating and it's just a matter of bouncing wavs and managing," iLan went on to note.  "On this particular song I had about 145 tracks when it was all said and done.  SONAR's ProChannel did a lot of the work for EQ'ing which has become a big part of my workflow.  In no other DAW can you work so quickly mixing in my opinion."
Although recently moving from North London to Redondo Beach CA, the long distance did not stop iLan from shooting the video in the U.K.  "I had the concept in my head, so I called upon an incredibly talented director Ian Gamester in the U.K. to shoot this thing.  He would send me the shots and we would meticulously go through them and then re-shoot until we had what we needed—not the most optimal way to go, but it was important for us to get it right."  iLan then edited and color treated the video himself before re-importing back into SONAR where he added Foley and final edits to the song.  "I noticed a big difference in performance between SONAR 8.5 and Platinum once I had the video back into my system.  I've always realized how important the visual component is to music these days, so this project was important to me moving forward."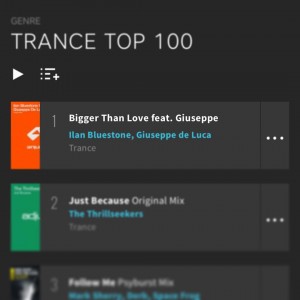 The single was recorded and filmed in October and November 2015, and then iLan brought the song to his fans on the road for his last tour over the winter which extensively covered the United States and a few other countries. (iLan reported over 30 flights/mo on that last stretch.)  According to iLan it's important to him to perform songs like this to his fans before releasing; where he can go back into SONAR and make any adjustments to the arrangements and parts. After making final tweaks to the song, it was released in March where it quickly and recently climbed up the Beatport Trance chart finally landing at the No. 1 spot.
Currently, iLan is setting up his new Trance-cooking lab in a new flat located in sunny southern California while bracing for yet another whirlwind of touring with dates to be announced.  "I'm going to be creating a lot of new tracks for a while here in CA while performing a few shows, and then will be hitting the road hard again when everything is ready.  The songs are the most important thing to this whole equation, so I want to make sure I get that right for my much appreciated fans."
For us here at Cakewalk, this is the type of story that we work so hard for, and love to see.  iLan started out in his bedroom studio creating trance on SONAR and has now taken that to Madison Square Garden, and soon to be Red Rock Amphitheater.  Mix Magazine and Electronic Musician recently ran and articles on him, and other great positive things are happening for him monthly which is great to see.
"My advice to anyone starting out is to just dive in and immerse yourself.  Start on SONAR Artist if you don't have the means, learn it and get creating.  The great thing about the industry today is that if what you create is truly great, it will find its way up."


MORE INFORMATION:
Try any version of SONAR for FREE
SONAR Artist ($99)
SONAR Professional
SONAR Platinum
KRK Monitors (iLan uses KRK Monitors)
Dell m3800 (iLan's machine)
iLan Bluestone
Anjunabeats
Until all dates are announced, here are the current tour dates in the book including the prestigious Red Rocks Amphitheater:
Saturday 23 April 2016
Something Wonderful 2016
Texas Motor Speedway, Fort Worth, TX, US
Friday 20 May 2016
Mosaic, Kansas City, MO, US
Saturday 21 May 2016
Red Rocks Amphitheatre, Morrison, CO, US
Saturday 28 May 2016 – Sunday 29 May 2016
Sunset Music Festival 2016 Raymond James Stadium, Tampa, FL, US
Friday 24 June 2016 – Sunday 26 June 2016
NEON festival 2016 Bratislava, Slovakia
Saturday 09 July 2016
EDC UK 2016 The National Bowl, Milton Keynes, UK
Saturday 30 July 2016 – Sunday 31 July 2016
Veld Music Festival 2016 Downsview Park, Toronto, ON, Canada
Friday 12 August 2016 – Saturday 13 August 2016
DAS ENERGI Festival 2016 The Great Saltair, Magna, UT, US