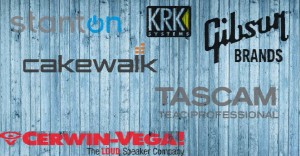 Musikmesse 2014 brought a lot of things together for Cakewalk in the grander picture under the Gibson Brands family.  For the first time, Gibson Pro Audio brought together its family of TASCAM, KRK, Stanton, Onkyo, Cerwin-Vega and Cakewalk at a major trade show – and it was pretty fantastic to say the least.  All brands were representing their latest and greatest products to an international group of industry professionals, music creators, musicians and producers from all over the world.  Besides the Pro Audio space which covered close to 6,000 square feet, Gibson also had its instrument space on the lower level which sprawled across an even greater area; so there was no shortage of Gibson at Musikmesse this year.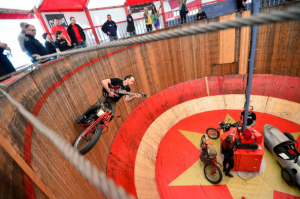 If two spectacular booths are not enough, why not throw in an eye catching/death defying stunt show outside in front of the all the halls?  Introducing: The Gibson Motodrome: a 16 meter diameter pitted-cylinder-wall where vintage motorcycles and a speed-racer circa 1928 whizzed around avoiding what would seem to be an inevitable crash.  The only logical thing to do after getting this contraption going onsite was to have a visit from Rudolf Schenker who is the guitar player for Germany's own The Scorpions.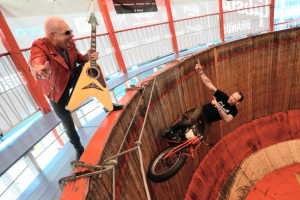 Back in the convention hall space while motorcycles and speed racers avoided collisions in the Motodrome, we were busy showing off the powerful new features and workflow of SONAR X3.  Unfortunately we all fell short in the German linguistics category, but FORTUNATELY for us we were armed with our demonstrator and industry friend Jochen Flach who is a professional German composer working outside of Frankfurt.  Jochen did a spectacular job demonstrating how he utilizes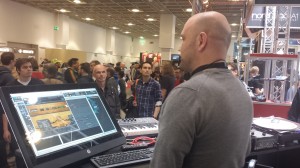 SONAR X3 Producer to deliver top notch sonic pieces to his clients for video games, movie trailers, movie scenes and Television shows.  The machine in the photo is the HP all-in-one Z1 workstation with Touch including a quad-core Intel® Xeon® processor.  I used this machine as well for my demo and I can attest that this machine makes music-creation very enjoyable.  There's something about the positioning of the screen that makes it real easy to combine mouse movements with Touch gestures.
On the same stage where Jochen and I were demonstrating SONAR X3 Producer, we were also treated to some great daily performances by DJ Spark who was holding down conference-goers as they passed by.  Electro-Scratch-Dance-Musician Hix Boson was also on hand, and did a great job at creating a lot of double-takes from folks walking past the booth.  Whether or not you are a fan of the
Rockstar DJ era, something about blue guy with a monster head intensely spinning cool tunes on cool Stanton gear through a very full and powerful Cerwin-Vega system will make you stop and enjoy.  The booth was always a fun and vibrant place to be whether you were checking out SONAR X3, or listening to the new technologies incorporated into the latest KRK monitors.
Out of all the crisp pieces of gear we discovered at MusikMesse 2014, the one I was most excited about was the TASCAM US-7000 which will be in stores shortly.  This well-built interface is exactly what the market needs in my opinion with great converters and great preamps.  I think people often overlook the importance of converters in their system.  A lot of people don't realize that a great preamp will only go so far if the converter does not properly transform the signal, so this US-7000 is a great solution for music creators looking for pristine converters and preamps in a small rugged package.
So as Musikmesse 2014 came to a close we learned a lot about Cakewalk's integration into Gibson Brands besides the obvious.  The obvious is that we are now part of Gibson and will continue to do what we do best.  The more inconspicuous side of things during any business acquisition entails the "culture" after the integration process.  Besides being incorporated into a greater picture of products, we also found ourselves unified into a tightly wound group of amazing professionals who all very much care about their quality of work as well as each other as colleagues.  In my own humble opinion but quite frankly speaking, it was inspiring and refreshing to be a part of this major conference with the Gibson Brands.  Thanks for reading ~jl