SONAR X2 Producer users rejoice. Now you can get awesome guitar tones and effects from clean and spanky to crushing metal with the new TH2 PRODUCER amp modeling plugin by Overloud! 
Included in SONAR X2 Producer, TH2 Producer contains ten different amps, eight stomp boxes, two rack effects, nine cabinets and three mics oozing with killer tone. No matter what sound you're looking for, TH2 PRODUCER delivers in spades.
First let's check out the stomp boxes and rack effects:
These eight stomp boxes cover a full range of effects with great sound and versatility:
Tube Nine
FussRace
CHR-2
Analog Flanger
9-0 Phsr
Gate Expander
Crying Wah
Volume

Also included are two awesome sounding rack effects, the Digital Delay and the AQTX Spring Reverb.
Now let's take a look at the amps included:
The TH2 Amp contains eight amps modeled after some of the most classic sought after amps:
Rock 900 (UK)
Top30
SloDrive
Darkface 65
Modern
Bassface '59
Rock '64
Overloud Custom
This amp also includes SLR technology that allows you to choose different amps for the "A" and "B" sides and blend the two via crossfader for awesome combinations.
THD UniValve
This authorized modeling of the THD Univalve® Single-Ended Class A amplifier is a tonehound's dream and great for clean, blues and rock tones full of warm tube goodness!
Randall T2
Rounding out the amp selections is a metalhead's dream, the authorized modeling of the Randall® T2 head. This model produces an extremely powerful, punishing tone, powered by the "Valve-Dynamic®" technology.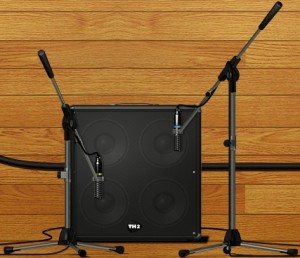 Now let's take a look at the cabinets included:
4×12 Vintage (UK)
2×12 Top30 (UK)
4×12 England (UK)
2×12 OB Darkface '65 (US)
4×12 Modern (US)
4×12 HeaVy51 (US)
4×12 Green (UK)
4×10 OB Tweed '59 (US)
4×12 Green (UK)
As an awesome bonus, users can load in impulse responses to add infinite numbers of cabinets to the collection. Impulse responses from convolution reverb plugins like Perfect Space can also be loaded to a cabinet for some really creative one of a kind sounds too!
TH2 PRODUCER's mic modeling goes above and beyond with full 3D movement of the mic "A" and "B" positions, a rear mic position and a 45 deg angle positioning. For mic "A" and "B" there are three models:
AustriaGold414 (Condenser)
California121 (Ribbon)
American57 (Dynamic)
You can blend the signal of the four mics via the handy mic mixer and even invert the phase on the "A" or "B" mic for limitless tonal possibilities.
Next in the signal path is the Splitter with select-able frequency crossover mode. This can be used to send the signal to two more amps, cabinets or combination with the ability to send only the desired frequencies via the crossover.
The last piece of the chain is the TH2 Mixer Pro which allows you to mix the signal from the Splitter with options for phase, delay, width, panning and level of the two final signals. There is a crossfader for mixing the two signals and a switch for mono or stereo output.
Strap on your ear goggles and let's take a swim in some of the tones available in TH2 PRODUCER!
(All examples recorded using TH2 PRODUCER and no additional processing)
CHR-2, 9-0 Phsr, Flanger, Digital Delay, TH2 Darkface '65 Amp, Vint UK Cab and Spring Reverb
TH2 Top30/Darkface '65 Amp Blend Using SLR Technology, OB Top30 2×12 Cab
THD Amp with OB Tweed '59 Cab
Tube Nine, TH2 Modern Amp and HeaVy51 Cab
As if all this tone wasn't enough, there are also MIDI controllable Smart Controls that can be assigned to control your most used parameters giving you the ability to get "hands on" with the effects and amps AND a handy tuner thrown in for good measure!
Cakewalk is also offering upgrades to the full version of TH2. SONAR X2 Producer customers who upgrade to the Full Version of TH2 will get an additional 20 amp models, 20 cabinets, 15 microphones, plus 60 stomp boxes, pedals and rack effects.