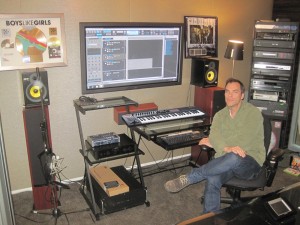 Why are Major Publishing Companies such as EMI seeing such great success with project studios?  Because with modern technology, top talent and a good set of ears, a demo may turn into a master at any given time.
Over a year ago I had the pleasure of setting up a studio at the EMI building in the meat packing district of NYC after they chose SONAR X1 for their project studio.  Since then, according to Creative VP EMI Jake Ottmann "the room has been a tremendous success" with an array of well known and developing artists from all over the world engaging in music creation.
The EMI project studio facility was primarily created for the roster of EMI artists who found themselves temporarily working in New York City.  "When you're a hit songwriter, you are traveling quite a bit and find yourself in different cities at different times," stated Jake Ottmann.  "We built this room up for top-notch artists and songwriters that are in town and need a great place to relax and write music.  It's been an awesome experience since its inception and we have seen some great success.  SONAR X1 and the PC Audio Labs machine which are both the heart of the room have been rock solid for these artists and writers."
Some of the recent artists who have been working in the audio lounge include Jay Trill, Lana Del Rey, Mathew Koma, and The Glory Days.
"Sometimes it's a few hours here and there with the X1 room just for basic writing, and other times it's a full on technical writing/producing session that could end up on a master, just like a recent session that went down with an affiliated artist/writer/producer who was working out of here last month."
~Jake Ottmann (VP Creative, EMI Publishing)
When putting this writing room together, EMI made a calculated decision to go with SONAR X1 and a V-Studio 100 all powered by a tailored PC Audio Labs machine.  "We were looking for a solution that covered all," explained Richard Reuss who is head of the technical team for EMI.  "We wanted something that covered it all delivered in one box.  We didn't want to get into purchasing plug-ins from one company, and then synths from another; we decided on SONAR X1 Producer not only for everything it comes with, but also for the way the workflow exists in the program."  "Our writers are very unique and diverse," added Jake Ottmann.  "SONAR X1 is not only a cutting edge recording tool, but also an amazing writing tool as well, and that was very important to us in our decision; not to mention the fact that the stock plug-ins, synths and drum modules are just as good as, if not better than anything else on the market.  It's been working so well for us that our in-house audio team has been using it for post-house related projects as well – we're pretty psyched to get this much mileage out of the system."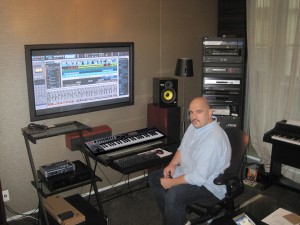 Although EMI Music Publishing has a huge facility for office space, it was obvious to the staffers that there was not going to be a lot of square footage allocated to this music room.  "I think one of the selling points for us was the fact that we don't have a ton of room in this spot [the room itself], so having the Pro Channel on every track to get a big console sound without the console is huge for us," explained Richard Reuss who has been a longtime SONAR user.
SONAR X1 continues to be the choice for leading creative institutions such as EMI Publishing.  It's also the go-to D.A.W. for many creative producers, songwriters and artists who want to be inspired by their system.  Right now, you can get a great deal with the SONAR X1 First Class Upgrade promotion that will help you to create radio-ready tracks.