Friday, May 13 – Los Angeles, CA
In the Cakewalk Artist Relations Department we have the honor of working with many producers, songwriters, mixing engineers, composers and musicians on a daily basis.  As we all know (or we should all know), the beauty of SONAR is that not only does it stand out as the premier top-notch Digital Audio Workstation, but it's also an inspirational and creative workhorse.  Many recording artists and producers looking for a more creative environment turn to SONAR and never look back.  The ability to customize just about anything you want, combined with a complete sonic package of content, plugins, virtual synths and other instrumentation really gives SONAR its award winning edge.
In particular, one Grammy nominated international producer/composer, Luigie Gonzalez, whose name you may have heard or read before is a great representation of someone who uses the program to its powerful extent in order to sonically stay ahead in the producer/composer game.  Originally from Panama, Luigie is now based out of Los Angeles, CA where he works with various major label and independent artists on a weekly basis some including Janet Jackson, The Killers, Alexx Calise (see videos of Luigie featuring Alexx Calise,) Madonna, The Veronicas, t.A.T.u. and Ricky Martin to name a few.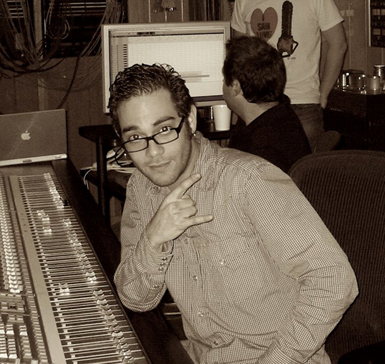 In working with these artists, Luigie has carved out a sound for himself using SONAR and constantly reinventing ways to create music.  "One of my favorite things about SONAR is the ability to put effects directly onto clips," says Luigie during a recent interview.  "It's limitless; I am able to subtly shoot things off in different directions to catch peoples' ears.  For example, I can take a lead vocal track and duplicate it to a new track; I can then manipulate the new track with effects that can go directly onto any clip that I split up on that very track.  For a split second I can have the "Now Time" pass over a word [clip] that has a flanger, a whacked out EQ and a delay that sets off a crazy chain reaction in the background of my mix.  I can also do things such as creating 30 or more short stuttering clips to the beat each with their own effects directly on the clips.  The new 'Effects Chain' feature in X1 makes this ridiculously easy now because I can just organize all my effects chains and drop them right on any clip whereas before I would have to insert multiple effects from scratch.  I take the clip based effects concept to crazy limits in a lot of my work, there are so many things you can do and as long as you hear it in your head you can obtain it."
Born in Panama, the American Grammy nominated producer and composer Luigie Gonzalez began his musical career by studying production and orchestration at the National Conservatory of Mexico and Berklee College of Music in Boston, M.A.  After graduation, Luigie relocated to Los Angeles to produce for the legendary singer/songwriter Juan Gabriel.  His production led to one of the singles charting number one in Billboard magazine and also resulted in an American Grammy nomination for Best Latin Pop Album of the year.
During his stay in Miami, Florida, Luigie teamed up with DJ Eddie X and composed, produced and arranged songs for BMG Records under the band name of "L.E.X. Project."  The dynamic duo successfully released singles and became one of the biggest Billboard Chart Toppers of 2005, having up to five songs in the same week on the top 20 charts including #1 and #2. 
Exclusively using SONAR, he landed productions and remixes on the Billboard Top 10 Chart by artists such as Ricky Martin, Barbara Streisand, Madonna and Donna Summer to name a few.  "SONAR has enabled me to quickly and efficiently deliver pristine cutting edge tracks to my clients," Luigie told us during our recent visit to his studio.  Internationally speaking, Luigie has also produced, arranged and engineered numerous successful artists released by different labels in Europe and Asia such as Tiana Xiao and Crystal Kay.  As a songwriter, he has also charted in Latin America with hit songs for many high profile artists like Eiza Gonzalez and Myriam.
He continues to produce and engineer for producers Jimmy Jam & Terry Lewis for artists such as Janet Jackson and also is currently developing up and coming artists in different genres of music including: pop, rock and orchestral.  Since relocating to Los Angeles, Luigie has had the opportunity to use his talent for visual media while his interest in music production within the visual media arena has resulted in scoring for feature films and documentaries.  The infusion of his diverse musical influences along with the power of SONAR allows him to create diverse scores and soundtracks that range from electro-rock to classical and orchestral arrangements.
In short, Luigie has accomplished a lot during his career and continues to chip away at great productions one by one.  You won't see a big flashy website with his name, nor will you see him posting all over audio production forums, and there's a few reasons for that: the guy is too busy making great music and he lets that component speak for itself.  On the day of our meeting, Luigie was in the middle of negotiations for a substantial production deal with a noteworthy company which he could not reveal too much information about until the ink is dry, but we will be sure to update you if and when that deal is signed.
MORE INFORMATION: