Luigie Gonzalez
Location: Los Angeles, CA
Grammy nominated Producer, Songwriter, Mixer, Multi-Instrumentalist
"When I walk into sessions with my SONAR machine, I hear 'what is THAT' a lot from other producers and artists.  And then like clockwork, I hear a lot of 'whoah' and 'wow' when they see what I can do beyond their limitations.  I'll never forget Jimmy Jam being blown away once in a studio when I started getting my sounds going in SONAR – that was a pretty cool feeling because he could see and hear what made my **** sound different from other producers on the scene at that time."  
Since upgrading to SONAR X3, my favorite new feature is the Nomad plugin suite.
The Nomad Bundle that comes with X3  has been a go-to for me when boosting mid and high frequencies.   The mids are awesome and super-musical!  I also usually use them for HiHats to boost 8KHz – 16KHz without sounding to square-digital or harsh.   It just has a nice sizzling tone that sounds so different than any other plugin in my arsenal of VSTs.  When I mix I am very observant of the "stereo image," and Nomad's "Imager" is the trick to help make room for things.  Also, I use the Tempo Delay often because of its warmth and versatility.   I also, love the Tempo Delay's parameter controllers – having 3 independent delay configurations is great to achieve the perfect delay tone in my mixes.  I can really get unique sounds with the delays and shape them to my heart's content.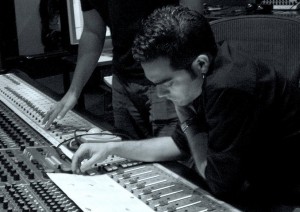 On the other hand, I cannot live without the Console Emulator (I believe this was new to X2 but it just never gets old)…  It just opens my mixes in such organic ways that have I become addicted to it!  I use the trident (A-type) mode for kicks, bass and everything with low end character because it adds great sub harmonics.  The SSL (S-Type) I use for snares, kicks and everything in between to achieve that pocket /punchy sound which warms up the top end frequencies without dulling the sound.  The Neve (A-Type) for Vocals, synths, guitars and everything that needs to sound frontal or cut through mix.  It helps my "center" in the mixes along with some nice mid-frequency response.
I always add a bit of drive (Console Emulator) to my buses to emulate the console circuitry saturation because it works without distorting anything too much – just enough to add more random harmonics and make the whole mix sound even more organic and full.  I think the Console Emulator is one of the best features to SONAR in a long time, and I'm very happy Cakewalk implemented it as part of the ProChannel.
Track coloring is also something I was waiting for some time.   It helps me keep organized especially when mixing 100 plus tracks sessions which is usually the case for me.  It's so smart that the track colors respond to the bus colors, this way I stay even more organized by visually understanding my large mixes.
I really dig the QuadCurve ProChannel EQ as well.   It's super-transparent and colorless on certain modes which plays an important part when carving very precise frequencies.   It's kind of like the FabFilter but the fact that it's part of the ProChannel makes it easier and faster to use.  It's also dead-precise while still sounding amazingly clean!
~Luigie Gonzalez
DJ Spooky
Location: New York City and The Poles
Producer, Music/Song/Sound Creator, Author, Visionary
When you are as diverse of an artist as DJ Spooky you need some serious music-creation tools.  Take Of Water and Ice for example.  This album is the result of DJ Spooky's art residency at the Metropolitan Museum of Art in NYC. Of Water and Ice is a composition for string quartet and video that evolved out of his large-scale multimedia work Sinfonia Antarctica: an exploration of the composition of ice and water, and our relationship to the vanishing environment of the arctic poles. DJ Spooky created The Book of Ice based on his travels to the poles. All of the electronic sounds are generated by interpretations of either algorithms that mirror the geometry in ice crystals or the math of climate change data.
"The biggest asset to me upgrading to SONAR X3 was the speed Continue reading "HOW UPGRADING TO SONAR X3 GAVE THESE PRO ARTISTS AN EDGE"