Murder FM:         Congratulations to SONAR Platinum artist Norman Matthew and his band Murder FM for finalizing their record deal with Famous Records/Sony Red.  After turning down deals in the past from even bigger major labels, Norman and company found the right fit for the band.  In a recent press release circulated to the music industry, Famous Records stated, "We here at the label are super excited and can't wait to share our new find. These guys have the 'IT' factor.  In a short period of time these guys can/will be the hottest new mainstream rock radio sensation that will get heads moving and feet stomping.
The single "We the Evil" will be promoted at rock radio this month, and another version of the song remixed by Tommy Lee of Motley Crue will be released simultaneously as well. The record which was mixed by Beau Hill (also the Executive Producer of the record) is slated to be released August 7th 2015.  Drummer Will Hunt of the band Evanescence also performed on the track Happily Never After which ended up as the title track to the record.  The band will be touring upon the release of the record and have signed on with the M7 Agency Group who has already started to place them on some large shows and festivals such as Dirtfest at Birch Run Expo Center, MI.
For more information visit: http://www.murderfmmusic.com/
Javier Colon:       Another Congratulations is also in order to SONAR Platinum user Javier Colon who has signed a new record deal with Concord Music Group.  Javier, who won the inaugural season of "NBC's The Voice," has continued to stay connected with his fans since winning the show.  Javier is currently using SONAR Platinum in his home production studio as he finishes up the record in between show dates.  The record was recorded at his home as well as various studios in New York City and Los Angeles.
Javier has been no stranger to major label record deals, and one can only assume that his talent, spirit and songwriting keeps carrying him into new ventures.  In a recent press release circulated within the music industry Javier said, "I am so happy to have a new home at Concord. They truly understand who I am as an artist and I'm looking forward to making the album I want to make. To be on a roster with the likes of James Taylor and Paul McCartney is an absolute honor and I'm excited to start this journey and get new music out to my fans."
Most recently coming off tour with Maroon 5 as well as solo performances, Javier has also performed with artists such as Stevie Wonder, Brian McKnight, Colbie Caillat, Michael McDonald, India Arie, Adam Levine, Stevie Nicks, Anthony Hamilton and Joss Stone to name a few.  From a recent conversation with Javier, it's evident that touring is going to be a big part of this next record and new territories such as Asia will be in the fold as well.
For more information visit: http://javiercolon.com/
ChocQuib Town:               ChocQuib Town recently released their new album "El Mismo" on Sony Music, and SONAR Platinum user and member Miguel "Slow" Martínez had a heavy hand in the production of the whole record.  The Columbia based group who is already an accomplished Latin Grammy winner, is touring heavily for what is anticipated as their biggest album release to date. With the structure of the release on a worldwide basis, the band is excited to finally be introduced to the world with their signature sound of Afro- Colombian Urban music which has been described as a beautiful mix of Salsa, Hip Hop, Reggae and Colombian Afro-Pacific Folk.
In ChocQuib Town, every member of the group brings a distinctive and interesting character to the music. Gloria "Goyo" brings passionate singing and rap elements while Carlos "Tostao" introduces the big-hype, all combined with the creative production skills of Gloria's brother Miguel "Slow" [Mike] who also adds his own lyrical swagger to the mix.
Check out the their first single "Cuando Te Veo" https://www.youtube.com/watch?v=NemwE1YoTRM
For more information visit: http://www.chocquibtown.com/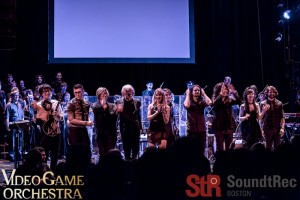 Shota Nakama, Falk Au Yeong and VGO [Video Game Orchestra]:    
The unique sonic signature of VGO caught the eyes and ears of Mix Magazine in May, as the magazine put a spotlight on the group's unique approach to music composition.  If you are not familiar with VGO, they are best described as a genre-bending blend of rock and classical music, taking aim at video game music.  At first, Creator/Producer Shota Nakama's intentions with the group were to simply introduce interesting and fresh new ideas to the video game world through classical music arrangements while also combining a rock aspect ["Rockestral"].
Fast forward 7 years later to what has transpired from a live performance to now also the studio, VGO has transpired into a world-renown machine in demand with international accolades, and a worthy example of what can happen with a good idea, raw talent and hard work.  On the recording side of the coin, Shota's SoundrRecBoston is now well known as a powerhouse music-spot for video games and film.  With credits in Final Fantasy XV, TALES OF ZESTIRIA, God Eater 2 and Kingdom Hearts, SoundtRecBoston is quickly making a name for itself in the gaming world.
SONAR user Falk Au Yeong, who is the mastermind engineer behind VGO tells Mix magazine, "My main work rig at home consists of a pair of PCs running in tandem, a main and a sample slave via Vienna Ensemble Pro, with the audio interface being a MOTU 828, I work primarily on a pair of AKG K702 headphones due to familiarity and personal preference. I have a small collection of microphones as well as Aural Sonic portable audio treatment panels used to set up my space for whenever small-scale tracking is required. Part of the reason my setup is lightweight is so that it can also be carted around. We've taken this rig to track stuff, run a multiple-output backing tracks/clicks/video solution for live concerts, and even for mixing sessions."
For more information visit: http://vgo-online.com/ and http://www.soundtrecboston.com
iLan Bluestone:                 SONAR Platinum user iLan Bluestone continues his rapid upward industry-clime with the new release of "Anjunabeats Worldwide 05" last week.  The full length record has already reached iTunes worldwide Dance Charts and seems to have the early momentum of his biggest release yet. Most of the record was created completely in iLan's home production studio outside of London.  In a recent phone conversation, iLan told Cakewalk, "The workflow in SONAR Platinum is allowing me to create my music faster with even better results now.  The customization factor is unreal and the fact that I can easily create a ton of my own key commands has me flying."
In addition to the new release, iLan's camp has also announced a world tour for the summer with many new dates finally in the United States as well as Canada, United Kingdom and Spain.  iLan will also be appearing at Sweetwater's Gearfest in Fort Wayne, IN on Saturday June 13th talking about his approach to music production and life as a touring electronic musician.
For more information visit: www.ilanbluestone.com