When you think of SONAR Platinum, you might not think of Jazz. In the last few years, we have had the pleasure of seeing various SONAR-using Jazz artists enjoy some well-deserved and large-scale success. What is success these days? Well depending on whom you ask, you will certainly get many different answers.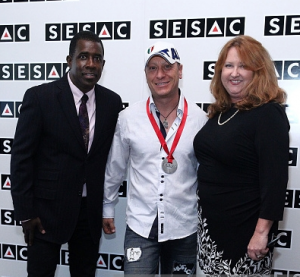 Bobbi "Funkee Boy" Tamarro will tell you first hand that success doesn't come easy. As an international recording artist, songwriter and producer, he's amassed an impressive amount of credits throughout his music career including chart hits across multiple music genres. Besides several top Billboard chart hits including his presence as a Top 5 Smooth Jazz artist, he has also penned licensing deals on television networks such as ABC, FOX, NBC, CBS, SHOWTIME,  and VH1 to name a few.
In 2014 Tamarro released his 3rd CD "Soul Purpose," where the keyboardist/producer combined his talents with assembling a stellar line up of A-List recording artists. Soul Purpose featured guest appearances from Warren Hill, Najee, Bob Baldwin, Cindy Bradley, Nick Colionne, LEILA, Surface, Lamone, Timmy Maia, Tevin Michael and more. With the success of this release, he found himself up on a podium accepting a prestigious SESAC award for his efforts.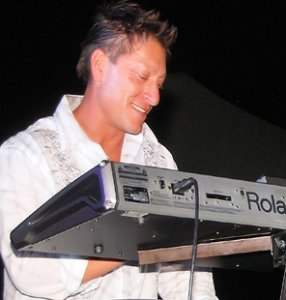 Recently with all his sales and charting success, Tamarro has respectfully turned down approaching major labels in the recent past as he has simply cracked the code as an indie artist competing in the big leagues. Bobbi tells us, "the number one thing is to do things right the first time, and be prepared to 'invest' and financially support your record. As an independent artist your record has to look, sound, and feel every bit as good as any major artist in your genre."
SONAR feature you can't live without?
The SONAR features I can't live without are "everything!!" From the ease of workflow, editing, & visual representation to the ProChannel, Eq's, Vintage Channel, and the Virtual Instruments included. They are all extremely valuable to me when making a record.
For more information on Bobbi Funkee Boy Tammaro please visit:
http://www.funkeeboy.com
https://www.facebook.com/Funkeeboy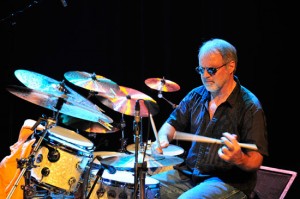 Paul Wertico is internationally known as "one of the most versatile and musical drummers in music today." As a member of the Pat Metheny Group from 1983 to 2001, he won seven Grammy Awards and several gold records, and toured the world dozens of times.  He has also won many other awards, including being named a Chicago Tribune 2004 "Chicagoan of the Year," being a recipient of a 2010 Lifetime Achievement Award from the Cape Breton International Drum Festival, and winning an Independent Music Award for "Best Live Performance Album" in 2014. Paul is an active drum clinician and session musician, and is currently a member of the Larry Coryell Power Trio, as well as Wertico Cain & Gray. There's no such thing as spare time for Paul, so he is also an Associate Professor of Jazz Studies at Roosevelt University's Chicago College of Performing Arts.
When it comes to recording, one would be hard pressed to find anyone in the Jazz world with as much experience as Paul as he has played drums and percussion on hundreds of recordings including Paul Winter's Grammy nominated release, Earth: Voices Of A Planet, and also on four of vocalist Kurt Elling's Grammy nominated releases to name a few.  To check out more of Paul's incredible studio work visit his discography here.
SONAR feature you can't live without?
I have too many favorite reasons for using SONAR to name them all, but versatility, stability, and ease of use, are just a few of them!
For more information on Paul and his exceptional work please visit:
www.paulwertico.com
www.facebook.com/paulwertico1
www.wcg.band
Chris Standring has been finding ways to break new ground in the Contemporary Jazz genre for over 15 years. His 2010 album 'Blue Bolero' spawned the hit single "Bossa Blue" which went to No. 1 at contemporary radio across the USA, and stayed there for nine consecutive weeks. "Bossa Blue" was then named 2010 Billboard contemporary jazz track of the year. He has had three No. 1 radio singles coming from the albums Blue Bolero, Electric Wonderland and Don't Talk, Dance.
SONAR has been the foundation for Chris's music, and he claims that the program has helped him articulate many of these hit songs. According to Chris, rather than start out with a specific roadmap he generally starts an album with a few basic concepts, then experiences that "snap" moment where the fun begins and he's furiously engaged on many different levels. The guitarist has long attributed his diversity to one thing: "I get bored with myself and I can't just rehash something I've done in the past. I have to do something fresh every time out and SONAR really helps me in that light."
Like Bobbi "Funkee Boy" Tammaro, Chris has found the formula of success that works for him – on his own. After launching his recording career the traditional way, on established jazz labels, He started his own company, Ultimate Vibe Recordings on which he has released all of his albums since 2008. This is quite an impressive feat considering the fact that the music industry is not just about writing chart-topping songs anymore. Not only is he constantly writing and recording, but keeping up on social media and tours takes up a lot of time and effort as well.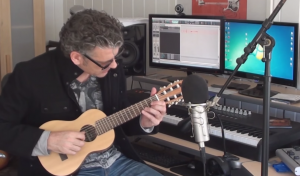 Chris's live performance has brought him all over the world. He frequently tours extensively in the US, Europe and UK and some of his favorite shows have included Capital Jazz Festival, Jakarta Jazz Festival, Cataliana Jazz Festival and the Seabreeze Jazz Festival. For more information on Chris's touring schedule visit
SONAR feature you can't live without?
I use a lot of loops and samples alongside real playing, so it's imperative for me to be able to audition these on the fly. The fact that any sample, whether it is a library sample or one I personally make, can be 'groove-clipped' in any tempo makes the creative experience so enjoyable. I'm totally digging the ProChannel too!!!
For more information on Chris Standring and his music please visit:
www.chrisstandring.com
www.theinsidetrack.tv
So in the SONAR world, Jazz is definitely NOT dead. In fact these are just 3 of many other great SONAR Jazz artists such as Vinny Valentino (currently on tour with Steve Smith and Vital Information), Don Braden, and Eric Hansen to name a few. There is inspiration in each and every one of these artist's stories, and we are proud that SONAR has been the foundation for many of their great recordings. The fact that these artists have molded independent careers for themselves should inspire any serious musician to take matters into their own hands and start recording.
So the next time you are in that smoky underground Jazz club at 3am, keep your ears open as you may just hear some cats talking about how they recorded in SONAR 😉