Anyone who has used the Matrix View in SONAR X1 can attest to its awesome music creation powers. But it can also be used in combination with the Browser View's flexible audio preview routing in a DJ setup to make instant remixes on the fly!
There are several ways this can be done depending on the equipment being used.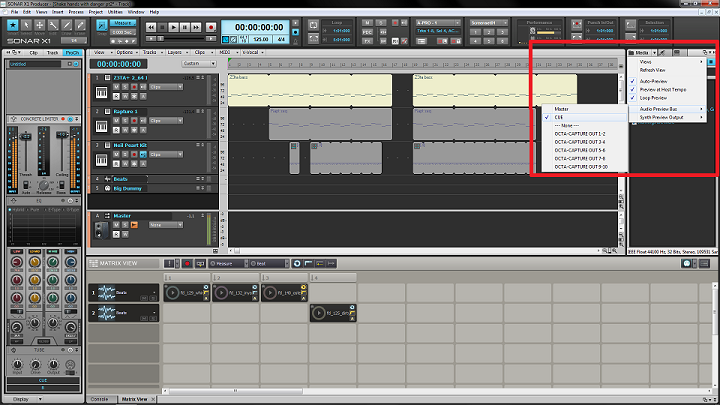 In the Browser view, the output for the audio preview can be assigned to a bus or hardware output. Typically I'll route this to a "Cue" bus containing the PCCL Concrete Limiter in the Pro Channel to keep the levels of the different loops and samples I'm auditioning at a somewhat uniform level.
If your interface has multiple outputs, the output of this preview or cue bus can be routed to its own outputs on the interface. For example, if your main output from the interface is 1&2, you can route the preview/cue bus output to 3&4 on the interface. These outputs can be plugged into a channel on a DJ mixer allowing you to audition loops and clips through the cue mix on headphones without the audience hearing it. Drag the clips you want into the Matrix View and build your club rockin' masterpiece on the spot!
Many of the DJ controller/audio interfaces include a headphone output that can be assigned to use as a cue. So routing the preview bus from SONAR to this cue output on the controller will achieve the same result.
How you use this method of alternate monitoring of the Browser's audio preview is completely up to your needs. Drag songs into the track view and match the project tempo, preview loops and clips in the Browser View, drag them into the Matrix View and jam along or create from scratch in front of the audience. Or simply use the routing to a bus loaded with the PCCL Concrete Limiter to deal with the varying levels of different material for a more uniform monitoring level when previewing loops and clips in the Browser View.
Get the Matrix View with any version of SONAR X1 and try the new PCCL Concrete Limiter for the Pro Channel in SONAR X1 Producer Expanded.