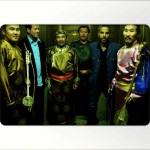 Carmen Rizzo checks his cell phone one last time as he boards the plane at LAX.  This is the first of several flights that will take him half way around the world over the next 24 hours – from Los Angeles to Perm, Russia .  He's got a text message from the people he'll be performing with in Perm; they want him to come back in 10 days for another show, and they need his commitment immediately.  He's taken slightly aback – he's not exactly sure what he'll be doing onstage when he arrives this time – but he agrees to make the return trip, figuring that as long as he has the right assemblage of tools, he'll be able to handle whatever situation is thrown at him.
This is typical for a road warrior like Rizzo.  The Los Angeles-based producer, DJ, record label owner, and radio show host is a rapidly-rising global brand, sought after for his wide range of skills that have earned him two GRAMMY nominations.   He's worked with the likes of Seal, Coldplay, Paul Oakenfold, Ryuichi Sakamoto and Alanis Morissette.  He's a member of the National Academy of Recording Arts and Sciences (NARAS).  He also DJs a radio set heard by 14 million listeners each month on the highly influential KEXP 90.3 FM in Seattle.  With so many irons in the fire, he's become extraordinarily flexible, yet fastidious in his preparation, maintaining a strict work ethic that sees him keeping regular hours in his home studio during the week and, whenever possible, not working weekends to spend time with his children.  But this last-minute request is not unusual for Rizzo.  He'll just roll with it.
On this trip, Rizzo will be performing with a group called Huun Huur Tu, a unique ensemble of four musicians who hail from the former Soviet Autonomous Republic of Tuva and specialize in their region's native "throat singing," a technique in which one person sings multiple pitches at the same time.  They are one of several acts on Rizzo's new label, Electrofone Music.  He produced their new album, Eternal, which is quickly becoming a hit on alternative radio, rising to #1 on the Canada world chart and was the most added cut to CMJ's World Music & RPM (electronic) chart.  This is to be a one-off show at the Perm Cultural Center, in Europe's Eastern-most city.  It's cold and dark there this time of year and he doesn't know what he'll be dealing with technologically…even for a city with a population of 1.2 million.  "I'm used to traveling to places where I can't even assume they have a mult [power] strip.  I have to bring everything," he says.
But Rizzo will face a second major challenge when he gets there, a last-minute invitation to be a guest DJ at the concert's after-show party.  A self-described fanatic about preparation, Rizzo meticulously plans what tools he'll need for his trips – regardless of the leadtime – and he's thrown for a loop by this added responsibility.  He doesn't have his regular DJ equipment with him, so to pull it off he'll have to make do with what he has in tow.
Have Roadcase, Will Travel

"[The concert] was a collaborative show, Huun Huur Tu and Carmen Rizzo, promoting Eternal.  And even though I billed the show, I really didn't know what we'd be doing," he noted.  "I'm generally not crazy about that, but as I got ready to go, I thought to myself, 'Well, I'll at least need an audio interface that can do lots of things.'"
Rizzo has some of the most cutting edge tools a modern day composer could want, so the trick for him and his assistant as they packed was to try to cover all potentialities….no mean feat.
Two days before he would board the plane in Los Angeles, a new toy landed at his door: a V-Studio 100 portable music studio from Cakewalk.  "I use Cakewalk stuff in my everyday line of work," said Rizzo.  "Whether in the studio on my big rig or on my laptop on the road, performing or with writing, Cakewalk is with me.  I use a PC for some projects, but I'm really a Mac guy.  Cakewalk's Rapture and Dimension Pro are two of my favorite [Mac-based] synths.   But when I got the VS-100, it was a breakthrough for me.  Now, not only was Cakewalk now doing hardware, but Mac hardware.  I had to see what this unit could do."
With barely 48 hours to acquaint himself with the unit, he quickly realized it had a variety of functions that could probably help him in Russia.  "The V-Studio 100 was like a Swiss Army knife, and I immediately saw that it'd be great for travel.  First for its size, but then it was also an audio interface, among other things. " So with barely enough time to update the drivers, let alone read the User's Manual, he made the determination it would make the trip with him.  The VS-100 made its way into one of his two crammed gig bags – which are carried on, never checked through – and he set off for Russia.
"I'm a freak about traveling, what I bring and how I bring it," Rizzo explains.  "In one bag I can fit two  keyboard controllers, and the other bag has a Lemur and two laptops.  It's tight and sometimes the airlines give me a hassle, but 90% of the time it's smooth sailing."
During the flight, he played with this new toy and wondered if the VS-100 might be able to help him out with his surprise DJing jam.  "I was sitting there and thought 'Fuck, what am I gonna do?'  I didn't have the gear that I DJ with, so I just conceptualized:  'OK, let's see if I can MIDI map the transport buttons on the VS-100 and monitor Deck A and Deck B [turntables] through Ableton.  If that worked, I'd see if I could MIDI-map the VS-100's crossfader to go from Deck A to Deck B.  When I finally had a chance put it into practice, it worked perfectly!  It was incredibly easy to customize the VS-100 to my needs."
Challenges Met
The concert in Perm was billed as  Huun Huur Tu + Carmen Rizzo and with little time to prepare, they put together the setlist during rehearsal.   To Rizzo's delight, the VS-100 quickly became an asset, helping him as the ensemble worked out material for the show.  He recalled, "I didn't bring any pre-prepared music over.  We actually rehearsed a piece on the spot, and it required some additional recording.
I sequenced the piece in Ableton during sound check, recorded it on the VS-100, brought the unit back to the hotel room, had the group come over and record some vocals over it and we used the new track that night."  The sense of relief in Rizzo's voice was palpable as he continued: "It wasn't something I planned on doing when I headed over, as I didn't have a SD card, but the great thing I found was that if you have the unit in a parking lot or back seat of your car — or even in Russia — without a computer, you can record."
Success and Reflection…and Ready for Round 2
The big day comes and goes in a whirlwind of activity, finally ending with Rizzo sitting in the airport in the wee hours, where he's gone directly from the after-party, to make the long journey back to the US.  The Huun Huur Tu concert was a sellout, with over 1,000 people standing and sitting in the aisles, and it came off without a hitch.
It all went better than he'd hoped, and Rizzo is already thinking about the return trip as he relaxes and updates his Twitter page.  He is tired but relieved and can't quite get over what the VS-100 helped him accomplish, especially with the DJing gig.  With a worldwide reputation at stake nearly every time he steps on stage or behind a turntable, he's tickled this new little box was able to get him out of a jam.  He is already excited about his return engagement, and it was becoming clear that this latest arrival to his gear collection might be one of Rizzo's most useful to date.
When he returns to Russia, he'll be playing Moscow's most prestigious venue, the International House of Music, also with Huun Huur Tu.  He'll probably leave the VS-100 home, however.  After all, it should be a cut-and-dried trip, no surprises, quick-and-dirty.  But then again, he knows all too well that he just never truly knows what he'll face until he gets somewhere.
Before he heads back again, however, he vows the return engagement will be his last trip of the year.  He wants more time with his family and to fit in more playing time for his local weekend baseball team, a passion that burns as strongly for Rizzo as music.  But having just completed recent gigs in New York, San Francisco and Minneapolis as well as Russia — on projects ranging from video game soundtracks to albums and EPs to DJ gigs — deep down he knows he can't quite be sure he's done traveling.  He's a road warrior in high demand.  And while he may not know if or when he'll be traveling again, he knows he's got a handy new tool that's already saved his bacon, in less than ideal conditions, ready to throw in his overstuffed gig bags.
For more information, click the links below:
Digital Media: Carmen Rizzo – Synthesizing the World
Time Magazine: Steppe It Up
*Update: We caught up with Carmen and he let us know that  this week he'll be working with Huun Huur Tu again and the V-Studio 100 will be at the heart of the action. "It's the centerpiece around my whole set up. I just love it."