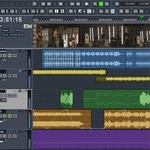 Make your New Year's resolution one that you can be proud of. Dare to be more adventurous as a music-maker in 2010 with Music Radar's 12 Ways to Get More Out of SONAR 8.5. With this guide, you'll be able to manipulate SONAR's tools for composing, editing and mastering your projects in ways you never thought possible.
Did you know that you can assign SONAR's virtual instruments, such as Session Drummer 3, as well as project views, like the Matrix view, to your favorite controller? Trigger pre-loaded sounds and patterns from your controller with these tools and you'll have a musical mash-up like no other. Does your vocal track need a little work? Use V-Vocal to create multi-part harmonies and AudioSnap to tweak the timing for a more realistic performance.
These tips and more can be found in hard-copy. Pick up Computer Music Magazine (January 2010) for a complete guide to the creatively-charged, SONAR 8.5.