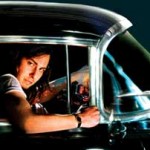 The 2009 CMJ Music Marathon begins tomorrow morning in New York City! As a proud sponsor of the annual festival, Cakewalk has teamed up with CMJ Featured Speaker Andrew W.K. to launch a very special contest during his presentation.
Everybody loves a riddle & Andrew W.K. is good at them. If you think you've got what it takes to match wits with Andrew and can answer the riddle correctly, you'll be entered to win some cool prizes including Cakewalk's V-Studio 100, a signed copy of Andrew's "55 CADILLAC" on both vinyl and CD as well as an autographed poster!
Are you a Trivia Wiz? Join CakewalkInc and AndrewWK on Twitter for your chance to win these amazing prizes.
Visit Cakewalk.com for official contest details!