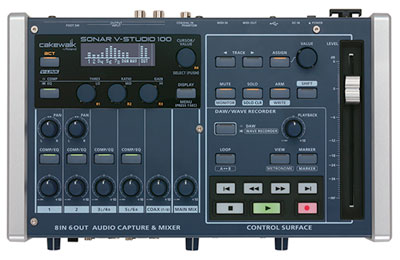 The Ask A Sound Guy bloggers, Ben and Sanjay, were first introduced to Cakewalk's V-Studio series last winter at the NAMM Show. The smaller of the two units, the V-Studio 100, impressed them so much that they included the unit in their 2009 Holiday Wishlist.
When they later got hold of a unit to review, they put the portable music studio through its paces. Ben began by recording vocals and electric guitar remotely using the V-Studio 100's built-in XLR inputs (with phantom power). "The preamps were exactly what you would be looking for in an interface like this," he exclaimed. "They're quiet, transparent, and boost the signal accordingly."
To track the project live, Ben used the V-Studio 100's on-board EQ and Compression. And to edit and mix the project, Ben integrated the V-Studio 100 with his own DAW. "I set it up to be used inside Logic and Live, and it worked well both times. The 100mm touch-sensitive motorized fader was a really nice feature to have. It's probably more of a personal thing, but I enjoy seeing a fader move when its reading back automation inside my DAW of choice."
Lastly, in hopes of pushing the envelope of the V-Studio 100, Ben recorded a full band (drums, bass, guitar and vocals) in a rehearsal space situation. He placed "two mics on the drums, a SM57 on the guitar cab, condenser on the bass cab, and vocals directly into the V-Studio." Although it was live and "sloppy rock and roll," Ben reported that the band was pleased with the final recording.
In all, Ben recommends the V-Studio 100 to producers, engineers and musicians on a budget, looking for an "all in one" solution for music production.
Visit Ask A Sound Guy to read the full review.