We wake up in Page to see the sunrise in the desert. Relatively not a lot to see where our hotel is but its nice to watch the colors change. I seem to have caught some bug since I had a fever and cold last night. I have to go to the desert to get a cold, yikes.

Fortunately there is an advantage to having stopped at Page. They have a big Walmart right across the hotel in the desert 🙂 So we head there and I pick up some cold and cough medicine.
We stop over at Lake Powell in Page to take some pics. Its the second largest man made lakes created from the Colorado river.
Driving to Monument Valley through Navajo country, the countryside changes once more. Facinating how the shape of the mountains differ from region to region due to erosion. Here you see mountains with tall spikes. Reminds me of the images from old western movies 🙂
We stop for lunch at in Navajo territory – we'd picked up a salad and some stuff from Page so we park in a shady spot and enjoy the break. Resuming our journey, it gets cloudy and starts to rain. We pass several flash flood warnings on the road and Ramona is getting a bit nervous 🙂
We reached Monument valley around 5 pm. There is yet another time zone shift, and this time we lose an hour so we have arrived about an hour before sunset.
Our hotel is called "The View" and it certainly lives up to its name! The view from our room is breathtaking with a clear view of "the mittens" (three enigmatically shaped mountains) and the cloudy weather makes for some surreal images. It almost looks like another planet.
The view is so good from the room that we almost want to not leave there. Nature puts on an amazing show and we even saw rainbows three times. We watch the sunset. I thought the sunset at the Grand Canyon was amazing but the changing colors here are a photographers delight. There are several pro photographers feverishly clicking a million pictures trying to capture the awe inspiring views.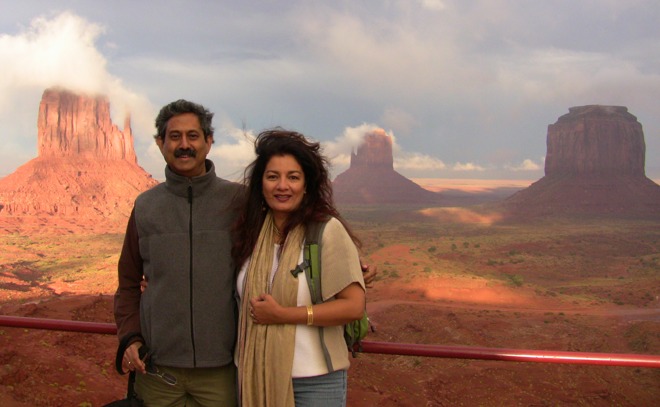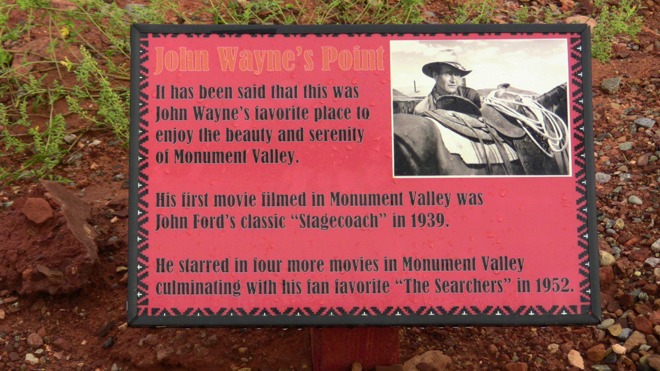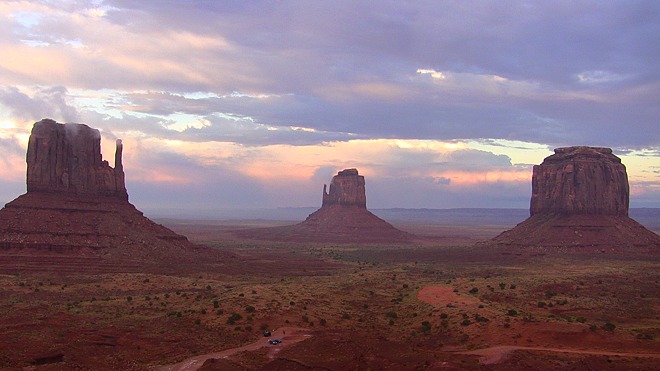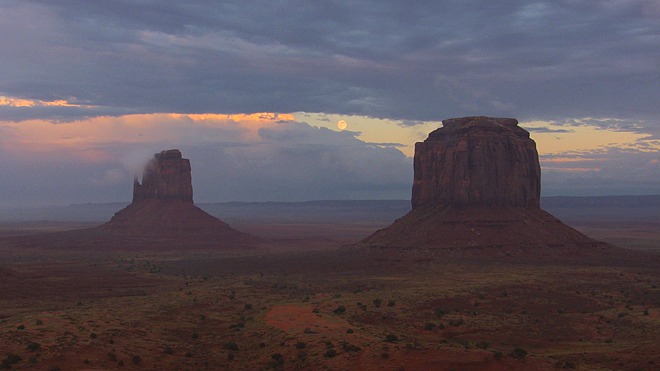 We finish watching the sunset and head to the restaurant here where we have some traditional Navajo specialities – some home-made style green chili pork stew (posole) and Navajo fry bread.